Press release
Statistical press notice: the 2012 NHS Staff Survey in England
The following statistics were released today by the Department of Health: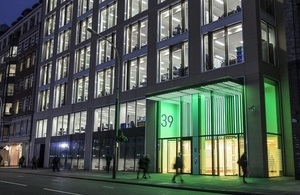 **The 2012 NHS Staff Survey. **
Key points from the latest release include:
Sixty-three percent of NHS staff said that if a friend or relative needed treatment they would be happy with the standard of care provided by their organisation. This figure is unchanged from that in the 2011 survey.  In addition, 62% said that care of patients and service users is their organisation's top priority.
There continues to be an improvement in the proportion of staff receiving appraisals, up from 80% in the 2011 survey to 83% in 2012, however only 36% of staff said these appraisals were well structured.
Only 40% of all staff were satisfied with the extent to which they felt that their trust values their work, this figure is lowest for ambulance staff (23%) and highest amongst social enterprise staff (47%). However, the proportion of staff who indicated that they would recommend their organisation as a place to work has increased for the first time in three years (55% in 2012 compared to 51% in 2011, 53% in 2010 and 55% in 2009).
Only 35% said that communication between senior managers and staff is effective, this figure is the lowest for ambulance staff (20%), and less than a third of all NHS staff (26%) reported that senior managers act on feedback from staff. Despite this 74% said that they are able to make suggestions on how they could improve the work of their team or department.
Fifteen percent of NHS staff reported experiencing physical violence from patients, their relatives or other members of the public in the previous 12 months and thirty percent of all staff report that they experienced bullying, harassment and abuse from patients, their relatives or other members of the public in the previous 12 months. Just under two-thirds of incidents of physical violence and 44% of bullying, harassment and abuse cases were reported.  The questions relating to such experiences were changed for the 2012 survey and so comparisons with earlier surveys are not appropriate.
Notes on the survey
The 2012 NHS Staff Survey covered 259 NHS organisations in England. 203,000 NHS staff were invited to participate using a self-completion postal questionnaire survey method. 101,169 responses were received - a response rate of 50% (compared with 54% in 2011). All full-time and part-time staff who were directly employed by an NHS organisation on September 1st 2012 were eligible.  Commissioning PCTs were given the option not to participate in the survey; four Commissioning PCTs chose to participate.  Fieldwork for the survey was carried out between late September and early December 2012.  The results are weighted so that they reflect unbiased estimates of all NHS staff in England.  Because of changes made to improve and shorten the survey for 2012 a number of the key findings are not directly comparable with their equivalents in previous years.**
More detailed commentary and analysis, and results for individual organisations, are published on the staff survey co-ordination centre website.
Published 28 February 2013