Press release
Statement of new regulation: more progress in fight against pointless red tape
New protections for law-abiding businesses and progress on pointless red tape are set out in the latest Statement of New Regulation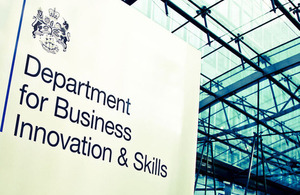 New protections for law-abiding businesses and further progress on Business Minister Michael Fallon's war on pointless red tape are set out in the government's latest six-monthly Statement of New Regulation.
The Statement published today details all regulation, including EU measures, which is expected to come into force between 1 July and 31 December 2013, as well as all regulation removed including under the government's One-in, Two-out rule and the Red Tape Challenge.
Measures creating savings for business, and expected to reduce costs by over £5 million annually include:
changes to Employment Tribunal rules of procedure to make the system simpler, more efficient, flexible and proportionate. The measures will make settlement agreements easier, particularly for smaller businesses. Where disputes do end in tribunal, a salary based compensation cap will promote fair and proportionate unfair dismissal awards.

a number of measures to make Health and Safety Law less burdensome include the introduction of simplified arrangements for the reporting of injuries, diseases and dangerous occurrences and the removal of employers' strict liability for injuries to employees in the work place. First aid arrangements have been simplified by removing the requirement for the Health and Safety Executive to approve training and qualifications of appointed first-aid personnel.

simplification of many environmental regulations including the rationalisation of information requests to make sure regulators only collect necessary information. Guidance has also been rationalised to make environmental requirements simpler and clearer to understand. These reforms are expected to save business more than £1 billion over 10 years.

simplified requirements regarding vehicle ownership include the removal of a mandatory insurance check at the point of vehicle licensing, and removing the requirement to declare statutory off road notifications annually.
Business Minister Michael Fallon said:
We remain on course to achieve our radical ambition of reducing the cost of regulation over the course of this Parliament. This Statement details important measures that will ease unnecessary demands on small firms, alongside essential reforms that will make our economy fairer.
We are now intensifying the pressure on Whitehall so new rules are only introduced as a last resort – and that any new measures benefit, not burden business. In Europe, I will intensify the fight to exempt firms from the red tape that holds them back. The EU must halt the tide of meddlesome new rules, and build on measures that help create growth.
New regulation to strengthen businesses include a more robust, local authority administered licence regime to tackle metal theft, supporting legitimate firms and severely restricting the black market in stolen metals.
A new business-friendly EU Directive allows Member States to exempt micro businesses from time-consuming financial reporting requirements, therefore easing burdens on the very smallest companies.
And revised requirements for improved transparency of Directors' remuneration reporting will require companies to clearly communicate what directors have been and will be paid to their shareholders.
To increase the pace of de-regulation, the government introduced the ambitious One-In, Two-Out rule in January 2013. Departments are now expected to offset any increase in the cost of regulation to business by finding deregulatory measures of at least twice the value. This month the Prime Minister appointed six heavy-hitters from the business community to work with Michael Fallon to help identify where further action is most needed to free up UK firms from EU bureaucracy.
The Statement confirms that the sum total of government deregulation between January 2011 and December 2013 has been to reduce the net annual cost to business by approaching £1 billion. New measures introduced during this period will have a net cost of around £24 million. The government remains committed to delivering an overall reduction in the costs of regulation to business over the course of this Parliament.
Notes to Editors
1.The Sixth Statement of New Regulation is at https://www.gov.uk/government/organisations/department-for-business-innovation-skills/series/one-in-two-out-statement-of-new-regulation
2.Deregulatory measures introduced in SNR5 period saved business £119 million - £36 million more than the forecast figure published in the Statement of December 2012, which was £83 million. That forecast figure included estimated savings which have now been validated by the independent scrutiny body, the Regulatory Policy Committee.
3.On June 28 the Prime Minister announced that six business leaders will work with the government to identify the European rules and regulations that need abolition or reform to help British companies grow.
The business-led review on EU regulation will look at rules including those relating to health and safety, employment law and company registration,
It includes the following business leaders:
Marc Bolland, Chief Executive M&S
Ian Cheshire, CEO Kingfisher
Glenn Cooper, Managing Director, ATG Access
Louise Makin, CEO BTG
Dale Murray CBE, Angel Investor 2011 and BIS Non-Executive Director.
Paul Walsh, Chairman, Compass Group
The work of the group will inform government lobbying for reform in Brussels and across Europe, as well as helping shape longer-term thinking about the impact of EU regulation on the UK.
The panel will report in September 2013.
4.The government's economic policy objective is to achieve 'strong, sustainable and balanced growth that is more evenly shared across the country and between industries'. It set four ambitions in the 'Plan for Growth', published at Budget 2011:
to create the most competitive tax system in the G20
to make the UK the best place in Europe to start, finance and grow a business
to encourage investment and exports as a route to a more balanced economy
to create a more educated workforce that is the most flexible in Europe.
Work is underway across government to achieve these ambitions, including progress on more than 250 measures as part of the Growth Review. Developing an Industrial Strategy gives new impetus to this work by providing businesses, investors and the public with more clarity about the long-term direction in which the government wants the economy to travel.
Published 10 July 2013