News story
Statement by Theresa Villiers MP Secretary of State for Northern Ireland
New Secretary of State on her new appointment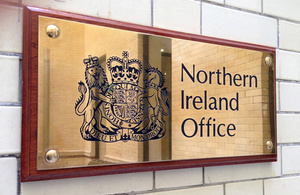 I am delighted that the Prime Minister has appointed me as Northern Ireland Secretary. This is a really important job in government and I look forward to building on the work of my distinguished predecessor, Owen Paterson. His commitment and hard work on behalf of the people of Northern Ireland were widely acknowledged.
I will be immersing myself fully in the issues over the coming days, getting out and about in Northern Ireland and meeting as many people as possible. Huge progress has been made in Northern Ireland over recent years. As the headlines in the past few days demonstrate, however, we still have some way to go if we are to overcome the divisions in society and build a genuinely shared future.
The Government will of course continue to stand by the agreements made over the past two decades and the political institutions they have established. I am acutely conscious of the need to continue our efforts to rebalance the Northern Ireland economy. In addition the Government will maintain the utmost pressure on those who resort to terrorism and violence to pursue their objectives.
So I look forward to working with the Executive, political parties and people from right across the community to build a stable, peaceful and prosperous Northern Ireland for everyone. This is a great opportunity which I relish.
Published 4 September 2012