Stalled building sites to get helping hand
Small, family-run housebuilders could receive a multi-million pound boost to do their bit to Get Britain Building, Housing Minister Grant Shapps…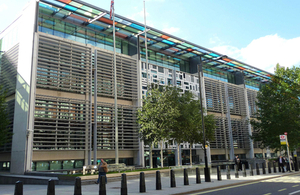 Small, family-run housebuilders could receive a multi-million pound boost to do their bit to Get Britain Building, Housing Minister Grant Shapps announced today.
More than £100 million is available to get spades in the ground and stalled developments back on track. This will potentially deliver up to 2,000 new homes.
The Get Britain Building fund has already provided a boost to developments in places including Ashford and Bath, where work has now restarted on 181 new homes.
The Minister said he was opening up remaining money in the £570 million Get Britain Building fund so this loan lifeline is also available to smaller builders after other developers later found they could build without the fund.
Smaller builders getting bigger chance
Previously, builders bidding for cash had to have plans for at least 25 homes on their sites. Now, to help smaller firms bid for funding the Minister has lowered the bar to 15 homes. This will open the door to additional developers who previously could not access this financial support. Larger developers can still bid.
Mr Shapps said he was determined that every taxpayers' pound works as hard as possible and that as many homes as possible are built. That's why the fund provides commercial loans directly to building firms that have shovel-ready sites, with planning permission in place, and that fit with local priorities.
Grant Shapps said:
By spreading the net wider and boosting the number of eligible sites we can offer more help to builders both large and small.

We saw huge appetite last time for this funding but some developers later found they could build without the fund. We need to be sure every single pound of taxpayers' money works as hard as it can so we can get as many homes as possible out of Get Britain Building. That is why I'm inviting further bids.

We've already started seeing the benefits this is bringing to the industry and the economy as a whole. I now want to see as many firms as possible grabbing this opportunity to get the diggers back on site.
Increasing opportunities for smaller firms will not only help secure the livelihood of people across the building trade but also offer more opportunities to local trades, from carpenters and plumbers through to people who keep their local housing market moving.
The Get Britain Building fund is one of a number of measures aimed at tackling the housing shortage, boosting the economy, creating jobs and giving people an opportunity to get on the housing ladder. In addition:
The Government and the sector is investing £19 billion in its affordable homes programme.
FirstBuy, a shared ownership scheme, is expected to help nearly 10,000 buyers onto the housing ladder. NewBuy, a scheme that helps people secure a mortgage with a five per cent deposit is expected to help up to 100,000 households.
The £770 million Growing Places Fund is providing local areas with flexible funding to get the infrastructure built to build new homes.
The £570 million Get Britain Building fund was announced at the end of last year and was initially over-subscribed three times. All projects are assessed on a level playing field, regardless of the size of the firm.
The fund is administered by the Homes and Communities Agency, the body responsible for assessing applications.
The agency's chief executive, Pat Ritchie, said:
I'm pleased that we are able to extend the reach of the Get Britain Building programme, giving many more developers who have struggled to secure finance the opportunity to apply for the investment they need to get their stalled projects back on track.

As with the original submissions, the HCA will continue to be thorough in our due diligence, and will only support those schemes backed by the community, which boost the local economy and provide a secure and value for money investment for the taxpayer.
Notes to editors
The Get Britain Building investment fund was launched in the Government's Housing Strategy on 21 November 2011. The original prospectus was launched on 22 December 2011.

Further details of today's round of funding and a prospectus can be found at: www.homesandcommunities.co.uk/get-britain-building (external link).

The deadline for applications is 12pm, 25 July 2012.

The Get Britain Building fund provides Government investment in developments that revive building and get the markets moving. This investment takes the form of loans or equity investments.

The scheme is run by the Homes and Communities Agency, England's national housing and regeneration agency. In London, the Homes and Communities Agency will be operating under delegation from the Greater London Authority.

Short-listed projects will complete due diligence to ensure maximum value for money for the taxpayer.
Published 21 June 2012