Sri Lanka marks the Global Summit to End Sexual Violence in Conflict
British High Commissioner hosted an event which comprised videos, theatre performances & a discussions on Sexual Violence in Conflict.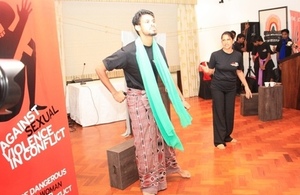 As the Global Summit to End Sexual Violence in Conflict takes places in London, the British High Commission, Colombo marked the Summit on Wednesday, 11 June at an event at Westminster House. The event – which comprised videos, theatre performances and a discussion – was part of the Global Summit Event Relay, in which over 70 British high commissions and embassies around the world participated.
The performances at the event included the reading of two survivor testimonies, both true accounts; a dramatic monologue by The Grassrooted Trust; and a forum theatre performance by the Abina Academy. This was followed by a panel discussion led by Alain Sibenaler of UN Population Fund, Dr. Sepali Kottegoda, Executive Director, Women and Media Collective and the British High Commissioner, H E John Rankin.
Speaking at the event, the British High Commissioner said:
" Rape and sexual violence are not inevitable acts of war but must be deterred and prevented. The fundamental issue is one of justice. Each time these crimes happen and the world does nothing, a precedent is set that sexual violence can be used with impunity: whether the victims are schoolgirls in Nigeria or refugees in Syria."
"… We refuse to accept that sexual violence in conflict is too vast and complex a problem to be tackled. The same thing was said about the slave trade or banning the illegal arms trade. When public opinion is roused and governments stir themselves, change can be rapid. There is evidence that this is now happening. More than three quarters of all the world's nations – 150 countries – have now endorsed the Declaration of Commitment to End Sexual Violence in Conflict. I am pleased to note that just last week the Governments of both Nigeria and Burma joined that group of countries.
We will ask countries to bring their laws on rape and sexual violence into line with international standards. We will call for all soldiers and peacekeepers to be trained to understand and prevent war-zone sexual violence. And we will urge countries never to grant amnesties for sexual violence. But Government action alone will not be enough. Communities as whole need to act to end sexual violence, with governments and citizens and civil society to work together. And we need to support survivors, and ensure that justice is done. It' s Time To Act."
Introductory speech by the British High Commissioner
The British Foreign Secretary William Hague and Special Envoy of the UN High Commissioner for Refugees Angelina Jolie opened the Global Summit to End Sexual Violence in Conflict yesterday in London. The Summit welcomed governments from over 100 countries, over 900 experts, NGOs, Faith leaders, and representatives from international organisations across the world. It is the biggest ever international meeting on this issue. It demonstrates the global commitment to end sexual violence in conflict and to take decisive action against this crime. The Foreign Secretary pledged a further £6 million to support survivors of sexual violence in conflict to rebuild their lives and communities.
Photos of the event can be viewed in our flickr account.
Veteran actress Anoja Weerasinghe speaks about sexual violence in Sri Lanka
A forum theatre performance by the Abina Academy on sexual violence
Published 12 June 2014