Spring sun advice from Public Health England
PHE has raised a sunburn warning after measurements of ultraviolet (UV) radiation at sites across the UK revealed unusually high levels.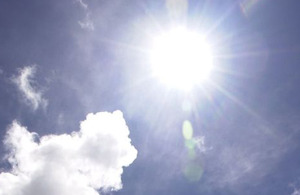 When UV levels are high there is a greater potential for those in direct sunlight to suffer sunburn, which can increase an individual's lifetime skin cancer risk.
At present levels of UV being measured by staff at PHE's Centre for Radiation, Chemicals and Radiation (CRCE), are higher than that which is normally seen at this time of year.
PHE is advising people to minimise their sun exposure when the sun is likely to be at its strongest, between 11am and 3pm. For those outdoors for long periods of the day, use shade, clothing and sunscreen to reduce exposure.
"Seeing UV at these levels at this time of year is unusual especially after so cold a spring so it's important that people consider what steps they can take to minimise their risk of burning," said PHE's Dr John O'Hagan.
"Of course we all enjoy being outdoors in the sunshine and it's important that people do carry on enjoying the warm weather, we just don't want people to suffer from the unusually high UV levels we're observing.
"It's also worth remembering that cloud cover does not protect against UV so even those in places where clouds are blocking the sun should consider what they can do to avoid getting burned."
To find out more about UV visit PHE's UV radiation Frequently Asked Questions page and the ultraviolet radiation page
Published 24 April 2013