World news story
Sport Lisboa e Benfica v Tottenham Hotspur travel advice
Travel advice for Tottenham Hotspur fans travelling to Lisbon for the Sport Lisboa e Benfica v Tottenham match on Thursday 20 March.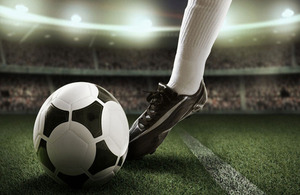 Date: Thursday 20 March Venue: Stadium of the Light (Estádio da Luz) Kick off time: 6pm (local time)
As well as this advice, check out our travel advice for Portugal.
Passports and visas
As an EU national you don't need a visa to travel to Portugal, but your passport should be valid for the proposed period of your stay.
Remember to bring your European Health Insurance Card (EHIC) but also take out travel insurance, even if you're only going for one night - it could save you a lot of money if you get into difficulties.
You must show some form of identification if asked by the police or judicial authorities. In most cases, it should be sufficient to carry a photocopy of the data page of your passport, but you may be asked to produce the original document.
If you lose your passport, the Consulate can issue an emergency travel document, subject to background checks and confirmation of ID. This is only valid for travel back to the United Kingdom and costs €121 (approx £95).
Getting to the stadium
The nearest airport to the stadium is Lisbon.
You can reach the city centre by underground (Metro) or bus (Carris).
To get into the city from the airport on the underground, take the red line to Alameda and then change on to the green line heading in the direction of Cais de Sodré. The city centre stations are Rossio and Baixa Chiado. See Lisbon Metro's website for more information.
The airport bus (nº 91) stops outside the arrivals terminal. See the Lisbon bus company's website for more details.
Taxis are beige-coloured or black and green. There are taxi ranks at both arrivals and departures. Pre-paid taxi vouchers are available from the tourist information desk in the arrivals hall at Lisbon airport. They can also be bought on-line from Lisbon Tourist Information Centre.
If you are arriving at another airport, there are trains and buses to Lisbon. The main railway station in Lisbon is Gare do Oriente and the bus station is at Sete Rios (both of these stations have Metro links).
The best way of moving around the city is by underground (Metro). The recommended route to the stadium is by Metro. From the centre of town take the blue Line to Colégio Militar/Luz and take the exit from the station marked Estrada da Luz. Tickets are bought from ticket vending machines before entry to the metro. Tickets are swiped to gain access. Remember to keep your ticket until the end of your journey so that you can exit the station through automated gates.
If hiring a car, you should carry your passport, valid UK driving licence and rental contract. The police can fine you on-the-stop if you don't have these documents.
There are tolls on Portuguese motorways. Heavy fines are imposed on those who do not (or cannot) pay toll fees so remember to carry sufficient cash with you. Don't use the green lanes (Via Verde) at toll pay points. These are for motorists who subscribe to the automatic pay system. Some roads in the north of Portugal and in the Algarve have unmanned tolls (SCUTs). Check what arrangements the car hire company has to enable you to use these.
No drinking and driving and no drugs. It's illegal. The traffic accident rate is very high. Traffic police carry out random spot checks and will test for both alcohol and drug consumption.
At the match
Tottenham Hotspur fans will be seated in sectors 29 to 34 and should enter through gate 23.
Access to the stadium can be slow - there will be ticket checks and body searches at the entrance to the turnstiles; to avoid a last minute bottleneck get to the stadium early - doors will open at 4:00pm
In addition to items which would usually be prohibited in the UK, please note the following restrictions at the stadium: no alcohol, sharp objects (including umbrellas), fireworks or flares, bottles or cans, drums or video cameras. Flags are allowed but must not be on poles over a metre long. Coins are permitted.
You should arrive early as there will be ticket checks and searches carried out by stewards and/or police on entry to the stadium.
The authorities have the right to breathalyse on entry to the stadium and test against limits laid down in Portuguese law. Anyone testing over the limit can be refused entry.
Children under the age of 3 will not be admitted to the stadium.
Visiting supporters will be kept behind for up to 60 minutes after the match to allow the home fans to disperse.
Tips
As in any other city beware of pickpockets and bag snatchers at airports, railway stations, around the town centre and when using public transport - only carry what you need and leave spare cash and valuables in hotel safety deposits
If you intend to use the Lisbon Metro, remember to buy a ticket on entry and keep it until the end of your journey as you will need it to exit the station through electronic barriers.
No urinating in public. It's illegal. If you need to use the toilet, walk in to one of the many cafés or fast-food restaurants. This is acceptable practice given that public toilets are few and far between.
Portuguese beer is stronger (and cheaper) than the beer at home so make allowance for this.
There is no time difference between the UK and Portugal.
Contact the British Embassy in Lisbon
British Embassy Lisbon
Rua de São Bernardo, 33
1249-082 Lisbon

Telephone: 808 203537 (if calling from Portuguese mobile or landline) +351 21 395 4082 (if calling from UK mobile or outside Portugal)
Office hours: Monday to Friday: 9.00am to 5.00pm Public opening times: Monday to Friday: 09:30 to 2.00pm For more information please visit British Embassy Lisbon website
Emergency services numbers: 112
Further information
Published 12 March 2014
Last updated 17 March 2014
+ show all updates
Change to kick off time
First published.