News story
Spending Round 2013 for MOD
The Defence Secretary and the Chief of the Defence Staff have issued statements following the Chancellor's Spending Round 2013 announcement.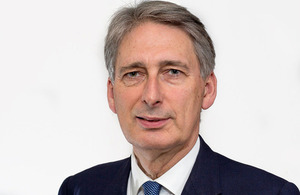 Full details of Chancellor George Osborne's announcement are available on the HM Treasury website.
Mr Hammond said:
The savings that I have agreed will have no impact on military manpower or equipment. Our Armed Forces will continue to be backed by the fourth largest defence budget in the world and a programme of investment in state-of-the-art equipment worth about £160 billion.

By renegotiating contracts with industry and reforming the way we procure equipment we will deliver hundreds of millions of pounds worth of savings to reduce the country's deficit without impacting on the Armed Forces' ability to operate effectively.

The ambitious and far-reaching reforms we began in 2010 have eliminated the £38 billion black hole and balanced the defence budget for the first time in a generation. We are determined to ensure that the Armed Forces of the future have the resources they need to deliver our nation's security.
Chief of the Defence Staff, General Sir David Richards, said:
Protecting our manpower and equipment ensures the Armed Forces can plan for the future with certainty and maintain battle-winning capability.

Our soldiers, sailors and airmen, backed by state-of-the-art equipment, including new aircraft carriers, hunter-killer submarines, Type 45 destroyers, fifth-generation stealth fighters and a range of armoured vehicles, will provide the UK with a flexible, agile and adaptable force to defend our interests at home and abroad.
Mr Hammond has also recorded a video message to all MOD staff which is available below.
Defence Secretary Philip Hammond's message to staff on Spending Round 2013
Published 26 June 2013