Spelman: Water reform needed to tackle threat of future droughts
Water for Life recognises that water is essential for economic growth and that we must protect the environment for future generations.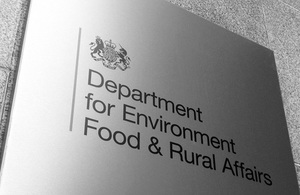 Britain faces a future of water shortages, and lasting environmental damage, with some rivers running dry, unless attitudes to water use change, Environment Secretary Caroline Spelman cautioned today.
Launching a new approach to water management, Mrs Spelman said that severe weather events, population growth and the need to grow more food will all put more pressure on our water supplies.
Environment Secretary Caroline Spelman said:
"Currently we enjoy clean water at the turn of a tap, and watch it drain away  without a thought. But parts of England actually have less rainfall per person than many Mediterranean countries.
"Making sure we've got enough water for everyone is going to be one of the major challenges this country will have to deal with in the years ahead. We can already see the type of problems we may face, with parts of Britain still in drought even though we're in December. With water expected to be less predictable as time goes on we all have to play our part in ensuring our water supply remains secure."
Mrs Spelman's warning came as she published long-term plans to ensure the future water sector is resilient, water companies are more efficient and customer-focussed and water is valued as the precious resource it is.
Today's publication of Water for Life recognises that water is essential for economic growth and that we must protect the environment for future generations. It:
Outlines plans to modernise the rules which govern how we take water from our rivers;
Explains how we will improve the condition of our rivers by encouraging local organisations to improve water quality and make sure we are extracting water from our environment in the least harmful way; 
Announces plans to reform the water industry and deregulate water markets to drive economic growth;
Enables business and public sector customers to negotiate better services from suppliers and cut their costs;
Removes barriers that have discouraged new entrants from competing in the water market; 
Asks water companies to consider where water trading and inter connecting pipelines could help ensure secure water supplies at a price customers can afford;
Enables water companies to introduce new social tariffs for people struggling to pay their bills and seeks to tackle bad debt which ordinary householders have to bear the cost of to the tune of £15 per year; and
Tackles the historic unfairness of water infrastructure in the South West.
These changes are all designed to lead to a more robust and prepared water industry, which promotes innovation and growth in the economy at the same time as we protect the environment.
The Government has also highlighted steps such as installing water butts in gardens to collect rainwater, converting toilets to dual flush, and addressing domestic leaks as a means to allow consumers to keep their water bills under control. The Government is also encouraging water efficiency measures which can save energy under the Green Deal.
Further to this, a new campaign to encourage water efficiency and urge communities to get involved in and help improve the health of their local rivers will launch in the New Year.
Notes
A copy of the Water White Paper including an executive summary can be found at:  http://www.defra.gov.uk/environment/quality/water/legislation/whitepaper/
The Government will publish a draft Water Bill for pre-legislative scrutiny in early 2012 and introduce a Water Bill as soon as Parliamentary time allows.
The Environment Agency has today published two reports to provide evidence for proposals set out in the Water White Paper. The case for change: current and future water availability includes data on how much water is available now and in the future, taking into account the possible effects of climate change and population growth.  The case for change: reforming water abstraction management in England, produced jointly with Ofwat, includes an assessment of the current regulatory regime and whether it is fit for purpose to face these future pressures. 
The Environment Agency have been asked to produce an updated drought prospects report in early 2012 to further inform the Governments ongoing work.
Published 8 December 2011