Press release
Speech – 7 Spetember 2011, Lord Howe – Laing & Buisson's Independent Healthcare Forum
Lord Howe delivers speech to Laing and Buisson's Independent Healthcare Forum.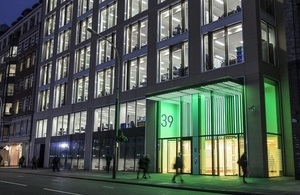 [Check against delivery]
Thank you, Sue [Saville].
If you were to stop and ask anyone in the street or down your local pub about what they are most proud of in Britain, it wouldn't be long until you heard the letters - N.H.S.
For more than six decades, the health service has been there for us when we needed it most. From the moment we drew our first breath until the time comes for us to draw our last - we can rely on the NHS to give us good quality care free at the point of need.
But to love the NHS, and I do think "love" is the right word here…  To love the NHS is not to be uncritical of it. It is not to turn a blind eye to the areas where it could be better…  to where it could do more to improve the lives of its patients.
We have become used to a system where 'Doctor knows best'.  Where we take what we are given and never stop to question either the correctness of the advice and treatment or the competence and quality of the medical professionals in front of us.
This is understandable.  The system was set up so that GPs and hospitals served their local population.  The idea was that professional standards would ensure that all care was excellent care.
It was taken as read that if you had attained the position of doctor or nurse or other professional rank, then you would always be in a position to deliver the best possible care.
In many cases, this is true.  There is outstanding care available in the NHS.
Groundbreaking treatments, compassionate care and excellent patient experiences.
But it's not true in all cases.
Think for a moment about the sheer size of the NHS.  Hundreds of hospitals.  Thousands of GP surgeries.  An estimated 1.3 million people.  More people work in the NHS than live in Birmingham, our second largest city.  They can't all be the best.
The simple fact is, the quality of care in the NHS varies.  It always has done and it always will.  The problem is not so much that it varies, but that nobody knows how it varies - who's good and who's not.
While some care is excellent, other care isn't.  In rare cases, such as at Mid Staffordshire, it can be downright terrible.  For the sake of patients, this needs to change.
The challenge is to encourage the NHS to improve the care they give at every level.  For the best to be better and for the worst to make the biggest gains or risk losing their patients to their more effective colleagues elsewhere.
And I believe it will only do this when a deep seated culture of transparency pervades every part the NHS and when we give power - real power to choose - to patients.
At the moment, if you go to see your GP and they refer you to your local hospital it is very difficult, if not impossible, to know if that is the best way forward for you.
How do you know, how does your GP know, whether a particular hospital is any good at the particular thing that you as a patient need?  The answer is, you don't.
One thing we do know about is waiting times.  Waiting times are important - very important - but they are not the full picture.  If you go out to a restaurant for a meal, you don't want to wait for ever for your main course.  But however quickly the plate is placed before you, if the food on it is not good or the service is poor then your meal will not go down as a success!  The same is true of the NHS.
Only when we know how good a provider is at a particular thing in relation to its peers can we make a reasonable, informed decision about it.
Openness and transparency are key to improving care.  And when we have this sort of information in our hands, it can have a powerful and immediate impact.
In April, the National Cancer Intelligence Network published, for the first time, mortality rates 30 days following surgery for bowel cancer.  Across the country, the figure was 5.8%.  Not bad, perhaps.  But that national figure masked huge local hospital variation.  From just 1.7% to 15.6%.
Now this doesn't automatically mean that care at one place is necessarily better or worse than at another.  As you know, there will be all sorts of factors at play.
But it does give clinical teams pause for thought.  To ask the question, is there more that we can do?  To look at those with the best performance and see if there are things that they are doing that we are not.
And when a patient, supported by their doctor or by HealthWatch, the new patient champion, when they look at this sort of information, they will be able to make a far more informed choice about where and by whom they wish to be treated.
And given the choice between a hospital with a very high survival rate and another with a lower one, which would you choose?
We have developed an Outcomes Framework, and NICE are working on a wide range of Quality Standards, against which we can measure the performance not only of the NHS as a whole, but of individual providers.
Last month, we published new provider level figures on A&E services.
In emergency care the 4-hour wait standard is important, very important.   But it is only part of the overall picture.
From now on, clinicians can see how well their A&E is performing against other hospitals on a range of indicators…
Such as the proportion of people who left A&E without being seen or the proportion of patients returning to A&E within a week of being admitted.
This new information - developed by Professor Matthew Cooke, the National Clinical Director for Emergency Care, the College of Emergency Medicine and the Royal College of Nursing - shows how services vary across the country and highlights areas for individual service improvement.
Without this new level of transparency, the issues exposed would have gone unnoticed and unchallenged.
We will publish more and more comparable data just like this.  Data that will be available for clinicians and patients alike.  Data that will make choice real.  Data that will shine a very bright spotlight on the country's poorest performers, holding them to account like never before.
Now into this more transparent healthcare arena will come a broader range of providers - private companies like yourselves, voluntary sector organisations and NHS organisations seeking to build on their expertise.
Now, we in government are regularly accused of favouring the private sector.   We don't.
To be honest, I don't think it should matter one jot whether a patient is looked after by a hospital or a medical professional from the public, private or charitable sector.  What matters is the quality of care they receive, the outcomes they get and that it always remains free at the point of delivery.
By making all providers accountable in the same way…
by putting their performance under the microscope and keeping it there…
by creating as near to a level playing field for all providers as is possible…
and by basing competition purely on the quality of outcomes and not on price…
then it will be the best providers, private or NHS, that will prosper, and it will be patients that benefit most.
The opening up of the NHS presents genuine opportunity for those among you - NHS, private or otherwise - who can offer patients high quality, convenient services that compete favourably with current care.
If you can do that, then you will do well.
But you know it won't be easy.  The NHS isn't the place to earn a fast buck.  As I said, there are some outstanding performers in the NHS and they will not give up their patients easily.
But I know that those who are serious about entering the fray are also determined to rise to the challenge.  To deliver excellent care.  To stand your own against the best that the public sector has to offer.  To bring new levels of choice and quality to patients.  To work with other parts of the NHS and with others to deliver seamless, integrated services.  Anyone who can do this will be welcomed into the NHS family.
But the challenge, I'm afraid, does not end there.
For as well as the obligation to be transparent about the quality of services you provide, there are other obligations too.  There is an obligation to the people who work in the NHS and an obligation to the people who pay for it.
I mentioned before that we want to create as level a playing field as possible.  That includes taking responsibility for the ongoing training and education of NHS clinical staff.
The NHS spends millions of pounds every year creating and sustaining a highly trained, highly skilled workforce.  A workforce that I am sure you will tap in to.
It is right, therefore, that all those who benefit from the skills and talents of NHS staff also contribute to the cost of their training to ensure their continuous professional development.
The Future Forum, which did such an excellent job in re-examining the Health and Social Care Bill, is now looking at the issue of education and training in detail.
They will report back in due course on how we can best ensure that those individuals who deliver NHS services continue to be regarded as among the best in the world, and that the responsibility for paying for them is shared fairly.
And, of course, there is an obligation to taxpayers.
The NHS budget stands at over a hundred billion pounds a year.  Public scrutiny of how this money is spent is more than just important to the effective running of the Health Service.
It is an essential part of our democracy.
So across the board we are also bringing a new level of transparency to the financial management and administration of the NHS.
Foundation Trust Boards and the governing bodies of Clinical Commissioning Groups will hold their meetings in public.
Commissioning Groups will publish their contracts, with all providers, making it clear how they are managing and utilising tax payers' money.
All NHS providers, whether from the public sector, the private sector or the voluntary and charitable sector, will be held to the same high levels of accountability.
Whether it is how well they treat and care for patients or how well they manage and spend tax payers money.
There will be no bias one way or another.   There will be no preferred provider.  Indeed it will actually become illegal for the government or commissioners to favour one sector over another.
Only by being blind to the nature of the provider, only by being absolutely transparent about the quality of what everyone has to offer, can patients really start to gain the benefits of competition.
Competition based on quality, not on price.
Competition that will only ever be in the interests of patients, not in the interests of a particular sector or company.
All those who serve patients do so with a keen sense of responsibility for their wellbeing. For independent providers serving the NHS, that responsibility - that sense of obligation - must in future extend towards taxpayers and to NHS staff.
But alongside those obligations come huge opportunities for high quality companies that can provide high quality care.
In the coming months and years, the National Health Service is going to evolve and grow into a very different animal.
I fully believe that with greater transparency, with patient power and with genuine choice, it will be a better NHS.
An NHS that will deliver better, more integrated, more effective services and that will see patients enjoying outcomes that are consistently among the very best in the world.
Published 7 September 2011