World news story
Special celebrations for the Residence in Sofia 100-year anniversary
From:

Part of:

Published:

26 February 2014

Last updated:

25 September 2014, see all updates
This was published under the 2010 to 2015 Conservative and Liberal Democrat coalition government
The Embassy in Sofia is launching a year-long programme to mark the centenary of the British Ambassador's Residence in Bulgaria.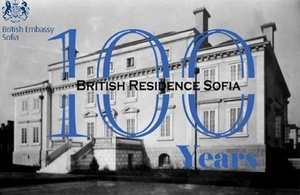 In 2014, the British Ambassador's Residence in Sofia marks the centenary of its completion. To celebrate the occasion, the British Embassy is launching a series of events to mark the strong connections between Britain and Bulgaria. The celebrations will go on throughout 2014 and explore and further develop the trade and business opportunities between the two countries, as well as add to the understanding of the common historical, cultural and heritage connections between the British and Bulgarian people. Some of its highlights are:
The 100 Years UK in BG blog – Launched earlier today with a story by Ambassador Jonathan Allen about the residence, the blog will feature memories of British people who have lived or are still living in Bulgaria. Their personal stories will help build a human picture of the way British people – who have been part of the 100-year history – have seen and experienced Bulgaria. The blog aims at gathering 100 stories, one for each of the hundred years. Those interested in sharing their most memorable moments from Bulgaria should email them at: 100yearsinbg@gmail.com. All details about the project and how to participate in it: here (PDF, 110KB, 1 page)

Official visits that will once again reaffirm the commitment to strong bilateral relations between Britain and Bulgaria
Visit of a British business delegation, which will explore Bulgaria's business opportunities in the infrastructure sector
Presentation of a new range of iconic UK food and drink products to the Bulgarian market
Project dedicated to cities of the future, inspired by the best practices in London and Sofia
Publication of a book about the British Residence in Sofia (part of the sales will be donated to charity projects run by Britons in Bulgaria that the Embassy traditionally supports)
A reunion of former British Ambassadors to Bulgaria and staff at the Residence
A series of cultural initiatives, including plays, exhibitions, lectures, etc.
Last, but not least, introducing Bulgarians, who have spent most of their professional life working at the British Residence and contributing to making what it is now
Jonathan Allen, British Ambassador to Bulgaria, commented:
100 years ago, the British Ambassador's Residence was completed. It stands now as one of the most impressive buildings in Sofia. It is a symbol of the strength of the relations between our two countries and of the permanence of those relations. Over the last 100 years, it has been a place where British and Bulgarian people have met to talk, to understand each other, to work to mutual benefit. It has seen the launch of many British companies in Bulgaria. It has hosted political discussions. As we celebrate the centenary this year, we also start looking forward to the next 100 years of the Residence and the many more things we will do together.
Please join us through our social networking sites in celebrating this very special year:
Document information
Published: 26 February 2014
Updated: 25 September 2014
Added translation
Added translation
Added translation