Press release
South London Healthcare NHS Trust to be put into the Regime for Unsustainable NHS Providers
Following consultation, the Unsustainable Provider Regime is to be used and a Trust Special Administrator appointed to South London Healthcare NHS Trust, Health Secretary Andrew Lansley confirmed today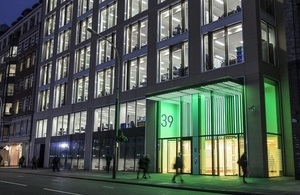 The Trust Special Administrator has been confirmed as Matthew Kershaw.  Matthew will assume full control of South London Healthcare NHS Trust, replacing the functions of the Trust board and assuming the role of the Accountable Officer. He will be responsible for maintaining patient services as well as developing recommendations to secure a sustainable future for services provided by the Trust for the Secretary of State for Health to consider. 
Letters are being sent to the Chair and Directors informing them of their suspension from their board duties. However, some of the executive and non-executive directors will support the Trust Special Administrator in developing a long-term solution for the organisation.
From the 16 July 2012, the Trust Special Administrator will examine closely the longstanding problems at South London Healthcare NHS Trust.  He will then:
 
• Produce a draft report to be published in Parliament by 29 October 2012;
• Oversee a 30 working day period of consultation with patients, staff, the public and relevant commissioners on the draft report, ending on 14 December 2012; and
• Submit the final report to the Secretary of State for Health by 8 January 2013, following which a decision on a course of action has to be taken by 4 February 2013.
Secretary of State for Health, Andrew Lansley said:
"Past efforts have not succeeded in putting the South London Healthcare Trust on a sustainable path.  This will be a big challenge and my key objective for all NHS Trusts is to ensure they deliver high-quality services to patients that are clinically and financially sustainable for the long term. The purpose of the Trust Special Administrator is to ensure that services are high quality and to ensure a lasting clinical and financial solution.
"Although there have been some improvements in mortality rates, maternity services and infection control, and some early signs of improvements in waiting times, they do not go far enough.  It will be impossible for South London to build on these improvements while tackling such a large deficit.
"Matthew, working with clinicians, all other staff, commissioners, patients, the public and other stakeholders, must now drive the changes and shape a sustainable solution for South London Healthcare NHS Trust and the local health economy."
Matthew Kershaw will be supported in his role by a dedicated expert team including an independent clinical panel as well as NHS and external strategic advice.  In particular, he will bring together a Clinical Advisory Panel, comprising prominent clinical leaders, to support and advise him on the work being undertaken to develop the recommendation for the Health Secretary - this will provide further reassurance that the Trust Special Administrator's proposals are based on strong clinical evidence and are in the interests of local patients.
Andrew Lansley added:
"This mustn't detract from the hard work put in by frontline staff everyday in South London.  It would not be fair to those staff to let the Trust continue as it has been and we are committed to preserving the high quality of care that their patients have come to expect.
"Matthew has extensive senior leadership and management experience within the NHS at board level in acute hospitals, and as a former Chief Executive in a high performing NHS Foundation Trust.  I am confident that with the regime I am enacting today in place, and working extensively with clinicians, health service leaders, patients and local people, Matthew will have the tools and framework in place to find a long-term satisfactory solution for the people of south east London."
On his appointment as the Trust Special Administrator at South London Healthcare NHS Trust, Matthew Kershaw said:
"My priority is to work with staff, patients, the public and all those involved in healthcare services in the south east London area to maintain high quality, effective services during the running of the Unsustainable Provider Regime.  This means developing recommendations that ensure that people in south east London can access high quality, safe, and financially sustainable NHS services for the long-term. Together we will need to think differently, be bold and accept that change needs to happen. The status quo is not sustainable.
"There have been some recent improvements in clinical standards at the Trust but these are not being delivered within budget. The Trust is overspending by £1.3 million each week, meaning vital resources are being diverted away from other services and communities - this is not acceptable or fair.  Patients and taxpayers deserve more than this.  I am committed to the NHS and committed to ensuring patients and tax-payers both get a good deal in south east London."
Ends
Notes to Editors:
1. Mathew Kershaw is currently National Director for Provider Delivery at the Department of Health, on secondment from his substantive post as Chief Executive Officer at Salisbury NHS Foundation Trust.  He has worked in the NHS since 1993, latterly in key senior leadership roles in acute trusts and in national policy development and implementation for the Department of Health.  In particular, he has led work supporting NHS trusts become organisations providing sustainable high quality services to patients efficiently and therefore, achieve FT status. 
2. As Trust Special Administrator Matthew Kershaw is accountable to the Secretary of State for Health and will become the Accountable Officer for South London Healthcare NHS Trust from Monday 16 July.  He will assume the duties and responsibilities of the Board which is automatically suspended on enactment of the Unsustainable Provider Regime. Board duties and responsibilities transfer from Monday 16 July 2012.
3. The use of the term 'Trust Special Administrator' as set out in the legislation for UPR in the Health and Social Care Act of 2006, does not equate to the role of a legal Administrator outside of the NHS.  The trust is not 'in administration' and insolvency legislation is not applicable to NHS Trusts. It will continue to provide services and treatment to patients in South East London as now - business as usual prevails.
4. The legal timeframe for the UPR at South London Healthcare Trust will be: an initial 75 working day phase developing recommendations and drafting a report; a 30 working day public consultation period on that report and its recommendations; followed by a 15 day period to finalise the report of recommendations for the Secretary of State for Health.  The Secretary of State then has 20 working days to consider the report and make a decision on the way services will be delivered in the future.
Published 12 July 2012