Press release
Small construction firms get cash boost
A pilot scheme launched two months ago to help small businesses and sole traders secure credit has already helped 200 firms.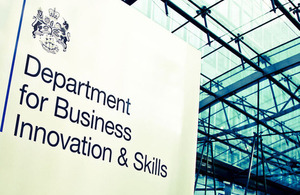 Aimed initially at the trade users of the Kingfisher group of stores – Screwfix and B&Q's Tradepoint – the scheme has so far enabled small firms to secure credit of £500,000, with more trade customers in the pipeline to use the scheme.
This alternative type of finance has been made available using an extension to the government's Enterprise Finance Guarantee scheme. The aim of the pilot scheme is to make credit more widely available to those viable businesses in the construction industry who struggle to secure the support needed to meet the upfront cost of materials.
There has been a wide range of interest in the pilot trade credit scheme from across a range of businesses sectors. Negotiations are underway with nationally and regionally based builders merchants, as well as the development of a model that would pave the way for smaller businesses to participate through their trade association.
Business and Enterprise Minister Michael Fallon said:
Conditions in the construction industry remain challenging, but taking an innovative view of how government support schemes are deployed, such as with EFG and the work with Kingfisher, can make a real difference to the sole traders and smallest firms that struggle to access credit.
The success of the pilot scheme is encouraging so far, and rolling it out amongst other builders merchants nationally and locally will boost confidence among our smallest traders in the construction industry.
Ian Cheshire, Group Chief Executive of Kingfisher plc, said:
The pilot is showing encouraging signs that trade customers of Screwfix and B&Q's TradePoint are making good use of the extra credit available to them through the Enterprise Finance Guarantee scheme.
Smaller business such as these will be a vital engine of economic growth for the UK so I'm pleased that we're able to support that.
The pilot ensures that businesses that would have previously been turned away for credit by Kingfisher because of a lack of credit history or track record can now be helped. The risk is shared by providing government guarantees of 75 per cent on individual trade credit facilities. As well as allowing Kingfisher to provide credit to viable businesses outside its present risk profile, the scheme also allows it to increase credit limits for certain existing businesses.
The scheme has been designed so there is no new administrative burden to Kingfisher. All credit decisions will be made by Kingfisher based on existing processes, and customers and frontline staff will see no difference to the trade credit application.
The update on the scheme came as the Business Minister visited a B&Q store in Gillingham, Kent to hear first hand from Kingfisher staff about its success to date.
Ahead of the industrial strategy for construction being published in the summer, Mr Fallon also visited construction products manufacturer Polypipe in Aylesford. Whilst there he was given a tour of the factory and shown the investments they had made as part of winning work for the London 2012 Olympics.
Notes to Editors:
1.The Chancellor announced at Autumn Statement that the government would be launching a trade credit pilot through the Enterprise Finance Guarantee scheme.
2.The pilot stated in April and will run for nine months. It is available nationwide through B&Q's TradePoint and Screwfix stores. Customers and front-line staff will see no difference to the trade credit application, and all credit decisions are subject to status.
3.A government guarantee helps underwrite Kingfisher's risk. Kingfisher will incur losses of 25 per cent of each facility that defaults
4.This will benefit new and existing customers. Guarantees will be provided to support:
up to £3,000 to new customers who would otherwise be denied access to a trade credit account;
up to £25,000 to new customers who would otherwise have been subject to a £3,000 limit; and
up to £50,000 to existing customers who are seeking a higher limit than would otherwise be available according to existing criteria.
5.Trade credit providers wishing to participate in the pilot, should in the first instance contact BIS's specialist SME finance programme management arm, Capital for Enterprise Limited (CfEL) –
Tel: 0114 206 2136 Email: mark.hambly@capitalforenterprise.gov.uk
6.Screwfix profile: Screwfix is the UK's largest multi-channel supplier of trade tools, accessories and hardware to trade professionals and serious DIY enthusiasts. In addition to its catalogue and website, Screwfix operates over 275 Trade Counters across the UK.
7.TradePoint profile: TradePoint provides small builders and professional tradesmen with all their building supplies at competitive prices, and all under one roof. TradePoint counters can be found in over 140 B&Q Stores nationwide with Order and Collect in a further 210.
8.Kingfisher profile: Kingfisher plc is Europe's largest home improvement retail group and the third largest in the world, with over 1,000 stores in eight countries in Europe and Asia. Its main retail brands are B&Q, Castorama, Brico Dépôt and Screwfix. Kingfisher also operates the Koçtaş brand, a 50 per cent joint venture in Turkey with the Koç Group, and has a 21 per cent interest in Hornbach, Germany's leading large format DIY retailer.
9.The government's economic policy objective is to achieve 'strong, sustainable and balanced growth that is more evenly shared across the country and between industries'. It set four ambitions in the 'Plan for Growth' (PDF 1.7MB), published at Budget 2011:
to create the most competitive tax system in the G20
to make the UK the best place in Europe to start, finance and grow a business
to encourage investment and exports as a route to a more balanced economy
to create a more educated workforce that is the most flexible in Europe.
Work is underway across government to achieve these ambitions, including progress on more than 250 measures as part of the Growth Review. Developing an Industrial Strategy gives new impetus to this work by providing businesses, investors and the public with more clarity about the long-term direction in which the government wants the economy to travel.
Published 28 May 2013