News story
Sky's the limit for UK links with China
UK and China agree deal paving the way for more flights.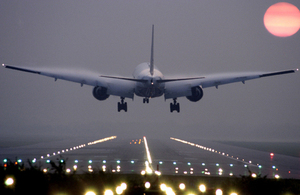 The UK and China have agreed a deal allowing more passenger flights between the 2 countries, following talks initiated by Transport Secretary Patrick McLoughlin.
The deal was announced by the Chancellor at the China-UK Economic and Financial Dialogue in London today (12 September 2014).
Mr McLoughlin launched negotiations on improved air links during a visit to China last October. The previous agreement, last updated in 2011 limited both countries' passenger airlines to a maximum of 31 return services per week in each direction serving up to 6 destinations in each country.
The new deal will increase that weekly maximum available to both countries to 40 direct flights in each direction, giving airlines more freedom to continue to expand into this growing market.
It also allows for more flexibility on the destinations served by flights, allowing UK airlines to serve up to 3 more Chinese cities than they do today.
Patrick McLoughlin said:
A crucial part of our long term economic plan is better trade links with key markets like China. Providing airlines from both countries the room they need to grow in this rapidly expanding market will ensure the UK can truly compete on the global economic stage.

Chinese visitors to the UK contributed hundreds of millions to the British economy in 2012 and business ties are blossoming.

Improved air services will provide a real boost to trade and tourism, both major drivers of economic growth.
As well as allowing both countries 9 extra direct scheduled air services per week in each direction, the new agreement enables UK airlines greater freedom to 'code share' with Chinese carriers on their routes within mainland China.
Code sharing is a common commercial practice where one carrier puts its flight number on a service operated by another. It means the tickets can be made available by UK airlines for a wider range of destinations than would otherwise be the case. It means in the future passengers could potentially be able to book connecting flights in China through a UK airline.
Aviation and maritime media enquiries
Press enquiries 020 7944 3021
Out of hours 020 7944 4292
Switchboard 0300 330 3000
Published 12 September 2014