Speech
Chancellor's speech to the first UK-China Bilateral Investment Conference
The full text of Chancellor George Osborne's speech to the first UK-China Bilateral Investment Conference.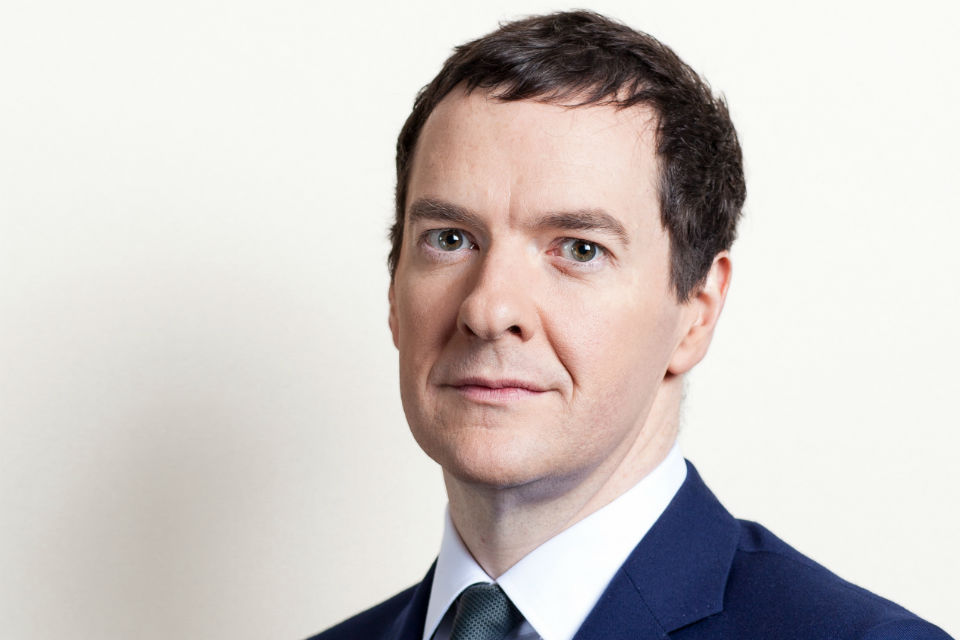 Welcome to the first UK-China Bilateral Investment Conference
At heart, our economic plan is not just about bringing economic stability but also making sure that Britain is better connected to the fastest emerging economies in the world.
And there are few faster or more exciting economies than China.
It is a great pleasure to welcome one of the architects of China's economic programme, Vice Premier Ma Kai, today.
And it is a great testament to the strength of UK China relations that we are able to bring together today so many of policy and business leaders from both China and the UK.
Yesterday I welcomed Vice Premier Ma Kai to Downing Street. We met with the Prime Minister and then I had a very good dinner with the Vice Premier as we began two days of dialogue.
As Prime Minister Cameron and Premier Li said at the Summit last June, ours truly is a partnership for growth, reform and innovation and this indispensable partnership is based on the close complementarity of the UK and Chinese economies, as we face shared challenges.
These dialogues demonstrate the clout and the reach of the United Kingdom in the global economy – and today we use that position to confirm billions of pounds of new trade deals between our countries.
Today we are going to announce one of the most intense and substantive set of economic and financial measures ever to be agreed between our two countries.
Today we forge strong and lasting economic bonds between the UK and China that will bring jobs and trade and a better standard of living both in China and throughout the United Kingdom.
Long gone are the days when British finance ministers spoke to their Chinese contemporaries in order to just open Chinese markets to British companies.
Of course we want to see more British business in China.
Since our government has been in power our exports to China have more than doubled – and we are now the second largest European Union investor in China.
But this British Finance Minister wants to bring more Chinese investment in to the UK too – to help to grow our economy and create jobs here.
I think we can say without exaggeration that there is no western nation more open to Chinese business and Chinese investment than the UK.
Since 2010 we have welcomed over £12 billion of major Chinese investments in this country –
like CIC's investment in Thames Water, and Heathrow
ICBC's backing for Manchester Airport City
like Sinopec and China National Offshore Oil Corporation investing in North Sea Oil
For this is a two-way partnership of equals.
And today, in this Bilateral Investment Conference and in the Economic and Financial Dialogue that Vice Premier Ma Kai and I will lead today, we will forge new bonds between our two great countries.
Finance
First, we will forge new bonds in finance.
We've done a lot.
In 2010, there was almost no offshore Renminbi trading here in the UK.
Now, and as Governor Zhou said at this year's inaugural UK-China Financial Forum, London is the most vibrant RMB centre outside of Asia.
We've had the first RMB swap line of any G7 country; the first RQFII license; and earlier this year we were the first country outside Asia to agree a RMB clearing bank
For we recognise that the internationalisation of the RMB will have huge benefits not just for the people of China, but for the rest of the world.
And as the world's leading financial centre, we are uniquely placed to help China in that journey.
We have just heard the news that the China Development Bank will issue a 2bn RMB bond this morning in London - the first such bond by such an institution.
And it is fantastic to have the largest policy bank in the world opening a representative office here in London.
Later today we will be announcing a major step forward to deepen the UK's RMB market.
And that will be part of a package of measures taken today, that will deepen our financial ties. I can tell you now we will be announcing that:
ICBC, the world's largest bank, has been given approval by the PRA this week to open a wholesale branch in the UK
more access to the Chinese market for UK firms like Lloyds of London, who received a license to open a Beijing branch
further steps to allow UK asset managers – whether they are in Glasgow, Manchester, Cardiff, Birmingham, or Edinburgh - to invest directly in Chinese securities and stay ahead of the competition
the decision by Harvest Fund Management, one of China's oldest and largest fund managers, to apply to set up a fund management company in London – the first Chinese fund manager to do this
Investment and infrastructure
First, finance. Second, business.
Britain now attracts 50% more investment from China as our nearest European rival and British business in China is growing exponentially.   Today we build on that with new business deals worth £2.4 billion.
This includes British businesses helping Chinese websites – some of the biggest online businesses in the world – to build their digital media platform. We will play our part in Asia's digital revolution.
And it includes British infrastructure businesses helping with Chinese rail infrastructure.
But as I say it is a two way street and we also want to see more investment from China in Britain.
This week we're also seeing further steps on civil nuclear power as we welcome CNNC's new office in the UK, launched yesterday.
This is further progress towards investment from China into the UK's civil nuclear power market and I hope to see agreement on final investment into the UK's first new civil nuclear project at Hinkley Point C later this year.
I challenge you to think of any other country in the West where such a collaboration would be possible.
And we're signing new contracts for Chinese investment in everything from UK shipping, to golf courses, to healthcare.
These are each major deals that will bring jobs and lasting growth to both our countries.
Now today we need to use this conference to find the next wave of commercial opportunities.
Whether it's investment in in our growing energy market – or dealing with the challenges of rapid urbanisation.
Britain was the home of the first major industrial cities.
China is urbanising at a staggering and unprecedented rate – 100 million more people will be moving into Chinese cities by 2020.
The British economy will benefit if British firms are helping China to build the sustainable infrastructure and regeneration project that will involve.
And some of the expertise we build can help us building our cities, help us building a Northern Powerhouse – for the job is not done here at home.
I want this to be a new chapter in the Britain-China relationship.
So today I'm announcing a new package to underpin cooperation on the challenges of urbanisation. We'll be funding new technology and research, providing educational exchanges, and appointing a UK Special Envoy to China on cities – Sir Michael Bear.
This will be one of the great challenges of twenty first century. I want us to solve it together.
We're investing in a long term partnership – a policy partnership that I believe will unlock new opportunities for business and for trade, and for a better quality of life for our citizens.
Culture
Third, our relationship with China is not just about economics.
We are two ancient cultures whose ideas and art and thinking has shaped the world far beyond our own shores.
Yesterday Vice Premier Ma Kai and I visited the British Museum – I showed him around the Sutton Hoo collection of buried Angle Saxon treasure.
And next week we'll have the opportunity to see more of China's history, with the British Museum's new Ming exhibition.
For we want our relationship to be based on more than just pounds and yuan – it must also be based on a deep understanding and respect between our civilisations.
And so today we are also creating new bonds in the understanding between our people – with a package of measures to promote tourism and enhance cultural cooperation.
We are increasing opportunities for airlines to operate more services, and to introduce new routes, between the UK and China.
Today I am delighted to welcome the announcement that China Hainan Airlines has received authorisation for a direct new flight between Beijing and Manchester.
We're getting even better at welcoming Chinese visitors: streamlining the visa process so it's much easier for tour groups; refunding the fees on up to 25,000 visas; and we're exempting approved tour groups from the requirement for a transit visa, making it easier for Chinese tourists to use British airports as hubs for international travel.
We're going to provide new Chevening scholarships for Chinese students who want to come and study arts and creative subjects here in the UK.
And we're going to host the first UK-China Year of Cultural Exchange – next year.
The year after is the 400th anniversary of Shakespeare's death.
Shakespeare is one of our greatest cultural exports – beloved in China as well as here.
So to commemorate this anniversary we will be paying for a new translation of his complete works into Chinese – and I can announce that the Royal Shakespeare Company will be taking a series of new productions to China as well as bringing more classical Chinese plays to the UK.
Conclusion
Our government has set out a long term economic plan for the UK – and it's working.
The UK economy is now growing. We're growing faster than any other major advanced economy in the world.
But we still have a long way to go – and many historic weaknesses to confront.
As a nation we have to export more and we have to attract more investment from countries like China.
So today we're forging strong and lasting bonds between our two countries.
Billions of pounds of new commercial deals.
Further steps to ensure the UK is the leading RMB centre outside Asia.
Co-operation on the great challenges of the twentieth century – and deeper cultural bonds between our great countries.
Now today let's use this conference to build on this work – and find the next wave of opportunities for closer economic cooperation between our two countries.
Thank you
Published 12 September 2014