Press release
Six new projects to pioneer enterprise-friendly regulation
Six new projects that will pioneer new ways for regulators and businesses to work together to support growth named.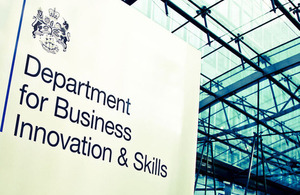 Business Minister Michael Fallon today named 6 new projects that will pioneer new ways for regulators and businesses to work together to support growth.
The pilot projects will each receive a share of the £120,000 Regulatory Innovation for Growth fund, following a competitive application process launched in April. 71 applications were received from local authorities, local enterprise partnerships, trade associations and businesses.
Business Minister Michael Fallon said:
These projects will demonstrate that the effective enforcement of regulation does not impose unnecessary red tape, impede ambition or stifle enterprise. They will help establish a new culture in which regulators work alongside the business community to help our firms comply with the law, achieve excellence, prosper and grow.
The 6 pilot projects are:
Hope Street Centre, Liverpool – working with businesses in the care industry to develop a toolkit to help business comply with a broad range of regulatory requirements.
South Northamptonshire Council - developing a model 'flag' rating system for campsite operators near the Silverstone race track to improve safety and welfare standards. This system will be shared across other popular camping areas in the UK if successful.
Road Haulage Association – developing a model for trade associations to work with their members and regulators to find and create practical approaches to compliance.
Monmouthshire County Council – helping food businesses to improve hygiene, and piloting a fee-paying advice service for businesses wanting more intensive, personalised support.
Cornwall Council and the Real Ideas Community Interest Company – providing accredited training to unemployed young people in customer service skills, consumer rights and food hygiene to increase their chances of employment and improve knowledge of regulations in the workforce.
Cumbria Public Protection Group - engaging with independent businesses in the tourism sector to create a package of practical and cost-effective tools for compliance with a range of regulations.
The Regulatory Innovation for Growth funding will support the projects for 6 months, from July to December 2013.
The government's Better Regulation Delivery Office (BRDO) will work with all applicants to encourage business-friendly implementation of regulation and to help them succeed in any future applications for government support.
Notes for editors
The government's economic policy objective is to achieve 'strong, sustainable and balanced growth that is more evenly shared across the country and between industries'. It set four ambitions in the 'Plan for growth', published at Budget 2011:
to create the most competitive tax system in the G20
to make the UK the best place in Europe to start, finance and grow a business
to encourage investment and exports as a route to a more balanced economy
to create a more educated workforce that is the most flexible in Europe
Work is underway across government to achieve these ambitions, including progress on more than 250 measures as part of the Growth Review. Developing an Industrial Strategy gives new impetus to this work by providing businesses, investors and the public with more clarity about the long-term direction in which the government wants the economy to travel.
Published 19 June 2013