Press release
Sir Keith Pearson confirmed as Chair of Health Education England
Sir Keith Pearson has today been confirmed as Chair of Health Education England (HEE).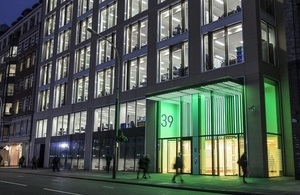 Sir Keith, currently Chair of the NHS Confederation, will head up Health Education England, the organisation that will provide national leadership to the new system of education and training in healthcare, when it is established in June 2012.
Health Secretary Andrew Lansley said:
"I am delighted to announce Sir Keith Pearson's appointment as Chair of Health Education England.  He has a breadth of experience and understanding of health and care professions which perfectly equip him for this challenging role.  Health Education England has strong support for its future role; and our ambitions for achieving excellence through education and training make this a key appointment for the future."
Sir David Nicholson, Chief Executive of the NHS said:
"The experience Sir Keith brings to this role will provide a clear vision for Health Education England.  He will lead the way to establish effective leadership and governance for the organisation and ensure early and successful relationships with key partners and stakeholders are made."
 Sir Keith Pearson said:
"I'm delighted to have been asked to take on this important role.  Health Education England will need to establish itself quickly so that it can take on its new responsibilities later this year.  Working with Local Education and Training Boards (LETBs), Health Education England must be seen to be progressive and innovative as we prepare the health workforce of tomorrow. "
Health Education England's key purpose will be to ensure that the healthcare workforce has the right skills, behaviours and training to support the delivery of healthcare and health improvement.
Sir Keith will take up post as Chair of HEE from 28 June 2012 and will step down from his role as Chair of the NHS Confederation.
ENDS
Notes to editors
For media enquiries please ring the Department of Health newsdesk on 0207 210 5221.
Sir Keith currently holds the post of Chair of the NHS Confederation. He was awarded a Knighthood for services to healthcare in 2010.
This appointment is made in accordance with the Code of Practice for Ministerial Appointments to Public Bodies, issued by the Commissioner for Public Appointments.  All appointments are made on merit and political activity played no part in the selection process. However, in accordance with the original Nolan recommendations, there is a requirement for appointees' political activity (if any declared) to be made public. Sir Keith Pearson has declared no political activity. For further information on the process for managing public appointments visit the Public Appointments Commissioner website.
Keith Pearson holds the following other public appointments: 1. Chair, Tri-Base British American Committee 2. Magistrate
He is also the independent chair of the UK Revalidation Programme Board for the General Medical Council.
In due course, the Government plan to consolidate HEE by establishing it in primary legislation as a Non Departmental Public Body (NDPB).  The Government intends to publish draft clauses for pre-legislative scrutiny in the second Parliamentary session.
Sir Keith's appointment will be for four years and he will receive £55,000 per annum for a time commitment of 2 to 3 days a week.
For further information on i) Health Education England visit the website and ii) Liberating the NHS: Developing the Healthcare Workforce - From Design to Delivery visit the DH website.
Published 2 May 2012