Press release
Sir Eric Pickles publishes report into tackling electoral fraud
This independent report makes recommendations about how the government can prevent electoral fraud in the UK.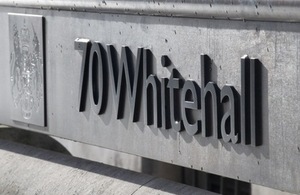 Former Secretary of State for Communities and Local Government, Sir Eric Pickles MP, was asked by the government last year to consider what further changes were needed to make the electoral system more secure. This was particularly in light of the 2015 Tower Hamlets election court judgment that saw the disqualification of the elected mayor for a number of corrupt and illegal practices.
Evidence has been gathered over the last year from local government, the police, academics and election experts.
A series of 50 recommendations are outlined in the report, including:
clamping down on postal vote 'harvesting' by political activists
piloting some form of identification at polling stations
action to tackle the links between electoral fraud and immigration fraud
stronger checks and balances against municipal corruption
Chris Skidmore MP, Minister for the Constitution, said:
I would like to thank Sir Eric Pickles for the work he has undertaken over the past year in producing this detailed and thorough report.

In order to ensure we have a democracy that works for everyone, the government is determined to ensure that the electoral register is as complete and accurate as possible. The introduction of Individual Electoral Registration has already begun to transform our registration system, increasing its accuracy and performance at the same time as seeing record levels of registration. We intend to continue to build on this success.

This report will be an important contribution to our fight against all types of fraud in the UK. We will look closely at the recommendations.
Sir Eric Pickles MP said:
Last year's court ruling in Tower Hamlets was a wake-up call that state bodies need to do far more to stamp out corruption and restore public confidence. It was local residents who lost out from the crooked politicians who bullied them and wasted their money. The law must be applied equally and fairly to everyone. Integration and good community relations are undermined by the failure to uphold the rule of law and ensure fair play.
The terms of reference for Electoral Fraud Review included:
examining what steps are necessary to stop voter registration fraud and error, postal voting fraud, impersonation, intimidation, bribery, treating and undue influence
reviewing the role of councils, the police and the Electoral Commission in deterring, identifying and prosecuting fraud
considering the recommendations of Richard Mawrey QC in his recent election court judgment on fraud in the London Borough of Tower Hamlets
recommending to government what practical changes are needed to legislation, guidance and practice
Published 12 August 2016
Last updated 27 December 2016
+ show all updates
Added information on the government's response
First published.