Eliminating electoral fraud in polling stations
The government will trial ID in polling stations to stop electoral fraud, with voters being asked for identification before they can vote.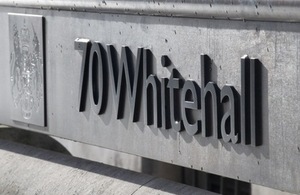 The government has today announced a number of measures to combat electoral fraud, including trialling the use of ID in polling stations.
Responding to Sir Eric Pickles' report 'Securing the Ballot' published in August this year, the government will introduce a number of his recommendations to tighten controls around the conduct of polls to eliminate electoral fraud. As well as piloting the use of ID in polling stations across England, the government will seek to:
prevent the intimidation and undue influence of voters at the hands of activists and supporters
end the dubious practice of postal vote harvesting, and
consider measures for nationality checking that will prevent fraudulent voter registrations
The government will consider how to bring a number of these measures into practice including introducing new guidance for Electoral Registration Officers who conduct the polls.
The aim is that pilots for ID in polling stations will be conducted at the local government elections in May 2018. Electors will be required to bring ID to prove who they are before they can vote, preventing anyone fraudulently taking another person's ballot paper. Local authorities will be invited to apply to trial different types of identification, including forms of photo ID such as driving licenses and passports, or formal correspondence such as a utilities bill to prove their address backed by a signature check. Voters will be asked to produce ID before they can be given their ballot paper. If successful, the measure could be introduced for general elections and other polls. The independent Electoral Commission has long called for the use of ID in polling stations.
Chris Skidmore, Minister for the Constitution said:
The government's view is that electoral fraud is unacceptable on any level. I want to protect the right of everyone to have their say and participate in our democracy.

That is why the new measures we are announcing today will protect anyone who is at risk of being bullied, undermined or tricked out of their vote – and their democratic right.

By eliminating fraud and tackling improper practices, we are ensuring the integrity of our electoral system while building a clear and secure democracy that works for everyone.
Background
ID cards at polling stations are currently required in Northern Ireland where electors must bring an electoral ID card. The government will be trialling the use of different forms of ID but has ruled out requiring a new type of photo ID card for elections.
The key recommendations from Sir Eric Pickles' report that the government will consider how to take forward are:
piloting the use of photographic and other forms of ID in polling stations
giving greater powers to electoral officials and the police to deal with intimidation and other unwanted behaviour
banning the handling of completed postal ballots by political campaigners and limiting it to family members and carers
that government should consider how nationality checking may be used to prevent false registrations
offences protecting the secrecy of the ballot to be extended to cover postal votes
requiring legal proof for requests for a waiver from giving a signature for a postal vote
requiring electors to re-apply for postal votes every 3 years
clarifying the detail of electoral offences to make them easier to understand and apply and increase maximum sentences for these offences
strengthening and improving guidance to those running polls to ensure process is correctly and consistently followed
revising the process for challenging the outcome of elections to make it clearer and easier to address proven instances of fraud
considering how the various agencies involved (such as police and local authorities) can work together to prevent and ensure a more consistent and robust response to allegations and instances of fraud
Published 27 December 2016