News story
Shortlists for Social Value Awards announced
The Cabinet Office has shortlisted 15 organisations and individuals for the UK's first Social Value Awards that are sponsored by KPMG.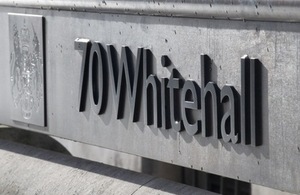 The Awards, announced in October 2015, fulfil an important recommendation from Lord Young's review of the Social Value Act. They will recognise and celebrate good practice in commissioning and providing social value.
We will announce the award winners on 11 February during a ceremony at the Social Value Summit hosted by Interserve and Social Enterprise UK. Find out more about the event.
Minister for Civil Society, Rob Wilson, said:
The Social Value Act delivers value for money while strengthening communities. Its success depends on providers of public services around the country. All of the shortlisted candidates exemplify the Act and are helping us to build a more compassionate society.
Shortlisted organisations and individuals
Social Value Leadership Award for an Organisation
Association of Greater Manchester Authorities (AGMA) Procurement Hub: AGMA consists of 10 local councils in the Greater Manchester region and has developed a social value policy and framework to address issues affecting the whole region

Halton borough council consistently considers social value in decisions and has implemented a social value policy, framework and charter

Durham county council has invested in understanding their region's priorities and how their own social value procurement can help to achieve these priorities

Liverpool city council has set social value as a priority from mayoral level down
Social Value Leadership Award for an Individual
Laura Pechey of the charity HAGA, based in Haringey that works with and on behalf of people, families and communities affected by alcohol. Laura Pechey brought in specialist support to explore how to embed the Social Value Act locally

Anne Lythgoe, Strategic Manager at Salford city council, has been involved with delivering, monitoring and teaching social value principles for over 15 years

Dave Sweeney, Director of Transformation at NHS Halton Clinical Commissioning Group and Halton borough council, has been instrumental in promoting the development of social value in Halton
Promoting and Mainstreaming the Social Value Act Award
HACT is the housing sector's innovation agency which supports the sector to build the skills to better understand social value

Kier Group is a property, residential, construction and services group working with organisations to promote social value

Landmarc Support Services has embedded social value into the management and operation of the Ministry of Defence's UK Defence training estate

The Social Value Portal is a social enterprise dedicated to building the capacity of both the public sector and business to implement the Social Value Act

The Wates Group construction services company is committed to creating employment and training through trading with at least 1 social enterprise on every live construction project
Driving Value for Money Award
Gloucestershire county council embedded social value throughout the tender process when it went to market for a new IT services provider

Data Performance Consultancy (DPC) works with public authorities to develop social value frameworks to measure social value and provide best value for money

Fusion21 is the national social enterprise that provides procurement and regeneration services to public sector members
Published 25 January 2016