Press release
Shirley Pearce, Kate Nealon and Ann Abraham confirmed as Non-Executive Directors of Health Education England
Shirley Pearce, Kate Nealon and Ann Abraham have today been confirmed as Non Executive Directors of Health Education England.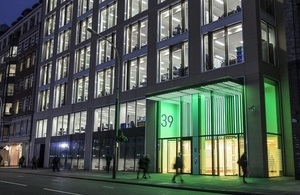 They will join Health Education England, the organisation that will provide national leadership to the new system of education and training in healthcare. This new system will give employers greater responsibility and accountability for planning and developing the workforce, within a national framework that is professionally informed and underpinned by strong academic links.
Sir Keith Pearson, Chair of Health Education England said:
"It is essential that the Board of Health Education England has strong non-executive input into the discussions and decisions, which enable the organisation to discharge its responsibilities. Individually and collectively, Shirley, Kate and Ann bring a wealth of public and private sector experience which will ensure Health Education England achieves its key aim of enabling the delivery of high quality care to England's population."
Shirley Pearce
Shirley Pearce is a clinical psychologist by profession and was Vice Chancellor at Loughborough University for seven years and the Deputy Chair Commissioner for the Healthcare Commission. She currently sits on the Higher Education Funding Council for England and is a member of the Department's expert panel carrying out a review of cosmetic surgery and procedures. Shirley has extensive experience at both executive and non-executive levels and has a strong educational and health background.
Kate Nealon
Kate Nealon is currently a Non-Executive Director with Argo Group International Holdings Ltd and formerly at Cable and Wireless, HBOS and Shire. She was the Head of Legal and Compliance at Standard Chartered Bank for many years. She has considerable business experience with strengths in risk management and corporate governance including a role at the Judge Business School at Cambridge University. She has held non-executive positions in both the UK and the US in publicly traded companies, charities and positions in the public sector.
Ann Abraham
Until January 2012, Ann Abraham was the UK Parliamentary Ombudsman and Health Service Ombudsman for England. In this role, she was always a staunch advocate for patient-centred, compassionate care. Ann has a breadth of experience as a Board Member in executive and non-executive roles and has a strong understanding of the issues and challenges facing HEE.
 ENDS
Notes to editors
For media enquiries please ring the Department of Health press office on 0207 210 5081.
This appointment is made in accordance with the Code of Practice for Ministerial Appointments to Public Bodies, issued by the Commissioner for Public Appointments.  All appointments are made on merit and political activity played no part in the selection process. However, in accordance with the original Nolan recommendations, there is a requirement for appointees' political activity (if any declared) to be made public. Shirley Pearce, Kate Nealon and Ann Abraham have declared no political activity. For further information on the process for managing public appointments visit the Office of the Commissioner for Public Appointments website.
Shirley Pearce is currently a Board Member of the Higher Education Funding Council for England. Kate Nealon and Ann Abraham do not hold any other public appointments.
In due course, the Government plan to consolidate HEE by establishing it in primary legislation as a Non Departmental Public Body (NDPB).  The Government intends to publish draft clauses for pre-legislative scrutiny in the second Parliamentary session.
They will each receive £7,883 per annum for a time commitment of 2 to 3 days a month.
For further information on i) Health Education England visit their website and ii) Liberating the NHS: Developing the Healthcare Workforce - From Design to Delivery visit the DH website.
Published 27 September 2012