Share of £30m Changing Places toilets fund now open for applications
Councils are being urged to apply for a share of a £30 million fund to install life-enhancing Changing Places toilets in public places and tourist attractions.
Councils can now apply for share of £30 million funding to install life-enhancing Changing Places toilets (CPTs) in their communities
Research shows country parks, open spaces, tourist attractions, and transport networks are where users would like to see new CPTs
Users will be able to take part in more recreational activities with dignity, confidence, and freedom
Councils are today (29 July 2021) being urged to apply for a share of a £30 million fund to install life-enhancing Changing Places toilets (CPTs) in public places and tourist attractions, providing a significant increase in areas where users want them most.
There are currently around 1,200 registered Changing Places toilets in England – these are larger accessible toilets for people who cannot use standard accessible toilets, with equipment such as hoists, curtains, adult-sized changing benches, and space for carers.
Over 250,000 people in the country need these facilities to enable them to get out and about and enjoy the day-to-day activities many of us take for granted.
Research conducted by the Research Institute for Disabled Consumers, also published today, demonstrates that the top 3 places where people currently use and value CPTs are shops, hospitals, and tourist attractions.
Users, their families, and carers would like to see future provision in areas enabling them to 'have a day out' and undertake more recreational activities with dignity, confidence, and freedom.
The top 3 locations where these facilities should be made available were country parks, open spaces, tourist attractions, transport networks – the journey to the destination being a key factor in planning a day out. The top 3 venues were: beaches and the seaside, motorway services, and parks or gardens.
Regional Growth Minister Luke Hall MP said:
In our national effort to build back better from COVID-19, the government wants to create a stronger, safer and fairer society in which everyone is treated with dignity and respect.

With central government, local government and the third sector working more closely together than ever before, we will put the right facilities in the right places for those who need them the most – extending freedom, accessibility and dignity to all.
Ministerial Disability Champion Eddie Hughes MP said:
Where people shop, go out, or travel should not be determined by their disability. That's why the provision of Changing Places toilets is so important for people who cannot use standard accessible toilets.

I hope local councils across England will apply for funding to install CPTs so everyone can enjoy the benefits of lockdown easing.
Chancellor of the Exchequer Rishi Sunak MP said:
I have supported the Changing Places scheme ever since hearing first hand from parents of disabled children the difficulties they faced in finding accessible public facilities – something which the rest of us just take for granted.

Applications for this £30 million funding are now open, and I would encourage all local authorities to get involved, to make a real difference for families with disabled children.
Lorna Fillingham from Ashby, a Changing Places campaigner said:
I have a disabled daughter who is a wheelchair user, and she's nonverbal, which means that she can't actually tell us when she needs to go to the toilet. Changing Places toilets with an adult changing table, hoist and toilet are therefore a lifeline to us to have a family day out.

Without these types of special facilities disabled children are having to be changed on public toilet floors or in the back of cars. In the 21st century nobody should be isolated in their homes because of a lack of an accessible toilet in their community, and nobody should have to be laid on a public toilet floor.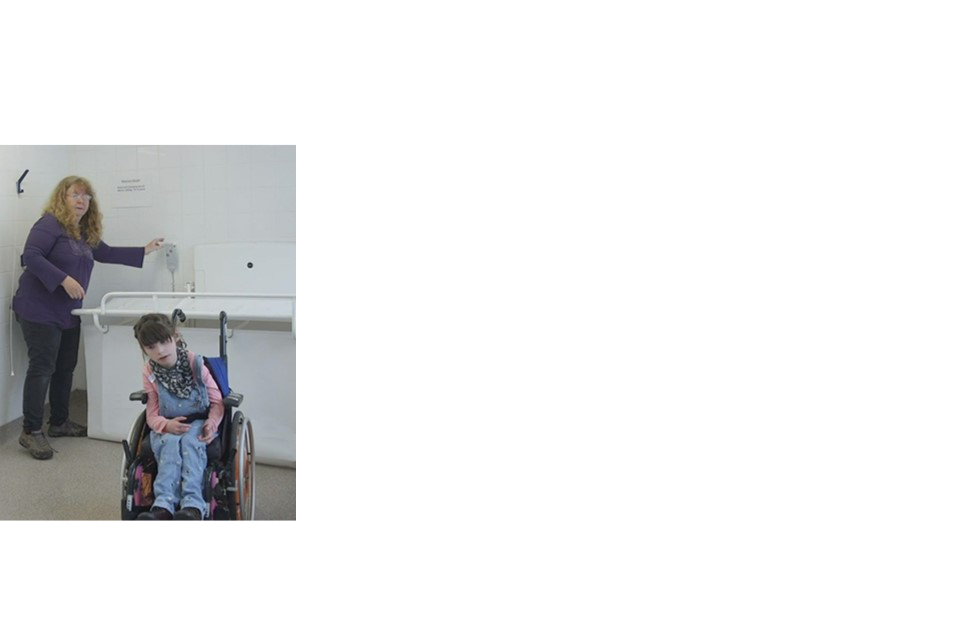 Muscular Dystrophy UK, co-chairs of the Changing Places Consortium, will be providing specialist expertise to support local councils if they are awarded funding which will include:
• Dedicated advice and information and Changing Places officers to support councils
• Changing Places manual and training
• Connecting authorities and collaborative network support
• Signposting to suppliers and installation companies
Robert Burley, Muscular Dystrophy UK Director of Campaigns, Care and Support said:
We are delighted to be supporting this MHCLG initiative, which will make a huge difference to the lives of people who rely on Changing Places toilets, many of whom live with muscle-wasting conditions. We urge local councils to apply for this funding.

As co-chairs of the Changing Places Consortium, Muscular Dystrophy UK is proud to be able to offer advice and information to local authorities in receipt of funding and to connect them with the fantastic Changing Places toilets community.
Bairbre McKendrick, Access Officer at Leeds City Council said:
In Leeds we have been working at providing Changing Places toilets throughout the city since 2011. We currently have 42 CPTs half of which are in Leeds City Council buildings or Parks and which we maintain.

After 10 years we still have more sites where a CPT would really be beneficial to families and individuals who use them. We are keen to install a CPT at Kirkstall Abbey – our 800-year-old Cistercian Abbey which is a big tourist attraction and hosts music events in the summer.

Our advice to other local authorities is not to be hesitant and apply for this funding, as users will be delighted to have new CPTs and will definitely use them. Your city and towns will benefit from CPTs and the freedom they can offer to people who need them.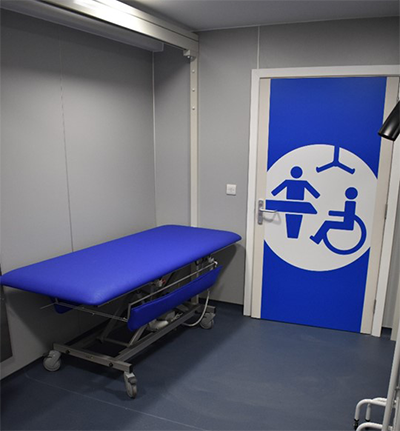 Councils will be invited to complete a short expression of interest to receive a proportion of this funding. They are encouraged to consider where Changing Places toilets are most needed in their communities and are encouraged to work in partnership with other organisations to deliver these facilities, including securing match funding wherever possible.
The National Disability Strategy launched yesterday (28 July 2021) marks the first collective cross-government endeavour to transform disabled people's everyday lives.
The strategy contains dozens of policy commitments across government departments and sets out immediate practical steps - from making playgrounds more inclusive to building more accessible homes - to improve disabled people's everyday lives, as well as signalling more work to be done with a launch of a new data project by the Disability Unit.
Further information
Every local authority that opts into this programme will be able to receive funding equivalent to the average cost of installing at least one Changing Places toilet in their area.
Local authorities should work with local partners including voluntary and community groups, parish and town councils and others to identify the potential to install new Changing Places toilets in their area and work with building owners to assess the viability of potential projects.
The funding provided will be capital only. Local authorities will be expected to cover the ongoing costs of maintenance of the facilities.
There are currently around 1,200 registered Changing Places toilets in England, but provision needs to increase quickly to improve access for people who cannot use standard accessible toilets and their carers.
You can find your nearest registered Changing Places toilet in the UK by going to the Changing Places website and using the location map.
In the absence of Changing Places facilities, disabled people and/or carers face:
limiting what they drink to avoid needing the toilet when they are out – risking dehydration and urinary tract infections
sitting in soiled clothing or dirty nappies until a suitable toilet is found or they return home having to change a loved one on a dirty toilet floor
manually lifting someone out of their wheelchair – risking safety
reducing their time out of the house – restricting their social lives
The Department of Health and Social Care announced in 2018 that £2 million would be made available for additional Changing Places toilets in NHS hospitals. The Department for Transport awarded funding to 22 motorway service stations in 2019 for the installation of CPTs.
Whilst the main focus of the funding is to increase provision in existing buildings, extending CPT provision through the use of mobile and prefabricated CPT facilities which could align and contribute to activities supporting economic recovery (e.g. events to encourage people back to town centres) will also be considered.
Local authorities will be responsible for identifying local places in need of a CPT and entering a grant arrangement with a responsible organisation or procuring contractors to build or install the facility
The programme seeks to increase the number of CPTs without detracting from existing toilet facilities. Therefore, expressions of interest should demonstrate that the funding will provide a net gain in the number of CPTs and that this will not lead to the removal or replacement of other non-CPT toilet facilities
Details for organisations interested in installing Changing Places toilets
As funding will be distributed through local authorities, we recommend getting in touch with your relevant local authority to register your interest in working in partnership with them to deliver a Changing Places toilet in your venue/ building.
The Changing Places Consortium
The Consortium launched its campaign in 2006 on behalf of the over 250,000 people across the UK who cannot use standard accessible toilets. This includes people with profound and multiple learning disabilities, motor neurone disease, multiple sclerosis, cerebral palsy, as well as older people.
There are 13.9 million disabled people in the UK. People with profound and multiple learning disabilities, as well people with other physical disabilities often need equipment and space to allow them to use the toilets safely and comfortably. With a lack of CPTs, many people are effectively excluded from participating in the fuller life available to the rest of society.
Research Institute for Disabled Consumers
RiDC is the leading expert in inclusive research involving disabled and older consumers. RiDC is an independent, national charity with over 50 years' experience in consumer research and insights in this specialist area.
We have a strong track record of providing unique insights and solutions to businesses, government and charities. RiDC always starts from the perspective of disabled and older consumers. By working with disabled and older people, listening to their needs and reflecting real lives in our research, we make sure nobody is excluded.
Run by, and for, people with a personal experience of disability, RiDC has established a UK wide panel of disabled and older consumers. The panel now includes over 2,500 people and is the largest pan-disability panel in the UK.
Regulations (from 1 January 2021): now require that CPTs must be provided in certain new public buildings. This will improve the long-term situation by an estimated 150 CPTs pa, but there is no legal requirement to retrospectively fit existing buildings.
The combination of building rule changes for new buildings and £30 million investment for existing buildings will substantially increase the availability of Changing Places toilets, meaning thousands of people who cannot use standard accessible toilets will have greater access to public places.
Office address and general enquiries
2 Marsham Street
London
SW1P 4DF
If your enquiry is related to COVID-19 please check our guidance page first before you contact us - https://www.gov.uk/guidance/coronavirus-covid-19-guidance-for-local-government.

If you still need to contact us please use the contact form above to get in touch, because of coronavirus (COVID-19). If you send it by post it will not receive a reply within normal timescale.
Published 29 July 2021