News story
Severe flood warnings in Southern England
Numerous areas at risk of flooding this week: PHE's advice to local partners.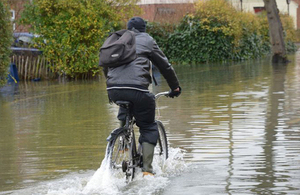 Areas along the Thames and across parts of the South East, South West and central England are at risk of flooding this week, due to rising river levels and risk of flooding from groundwater.
Flood warnings and flood alerts remain in place across the South of England, with the Somerset Levels and communities along the Thames at high risk of flooding. Elsewhere, extensive clean-up work is underway. Flooding is expected to affect people's properties, communities, transport, infrastructure. More strong winds and rain are expected on Tuesday and Wednesday.
Public Health England (PHE) is providing information to local partners in areas affected by flooding, on the potential health impacts before, during and after a flood as well as advice and support on the response and recovery.
If a flood has been forecast pack a "flood kit" in case you need to leave your home. Remember:
phone numbers, insurance documents, bank cards and money
medicines and medical devices, hearing aid batteries, glasses and contact lenses
clothing, toothbrush and personal items. If you have a baby, pack nappies, clothing and baby food
Professor Virginia Murray, head of Extreme Events and Health Protection for PHE, said:
If flooding has been forecast where you live, listen to local radio or check the Environment Agency and Met Office websites for updates and news. Take action if flooding has been forecast in your area. Phone Floodline on 0345 988 1188 or 0845 988 1188 or your Local Authority if you have questions.

If you have been flooded, or live near a river in flood remember that accidents happen in fast flowing floodwater so avoid walking or driving in or anywhere near floodwater. In coastal areas and on paths near the sea keep well away from the edge as large waves and strong winds can easily sweep you off your feet. Water sports in swollen or fast flowing flooded rivers or in stormy sea conditions can be extremely dangerous and should be avoided.
Furthermore, if your home has been damaged by floodwater, consider staying with friends or family, or ask your local authority to help you find alternative accommodation. Only consider returning to your home when essential repairs and cleaning have been completed. Do not let children play in floodwater and take care if you or your family must go into flood water as there could be hidden dangers like sharp objects, raised manhole covers and pollution. Wash your hands regularly. If water is not available use hand sanitising gel or wet wipes.
It's important when cleaning up after a flood to never use outdoor petrol or diesel generators indoors even in the event of a power cut. The exhaust fumes may contain carbon monoxide which can kill in a confined space such as a home. Carbon monoxide poisoning can be fatal. Also, after being flooded, remember not to turn on gas or electrics until they have been checked by a qualified technician. Avoid eating food that has touched flood water or fresh food that has been in the fridge. Clean all work surfaces before and after preparing food.
People may feel tired, anxious or have difficulty sleeping, if they are affected by flooding. Contact friends and family for support as it can take a long time for life to return to normal, and if necessary call NHS 111 or visit your GP for medical advice.
More advice on what to do before, during and after a flood is available in a leaflet produced by Public Health England in collaboration with the Environment Agency.
Get answers to frequently asked health questions about flooding.
Published 10 February 2014
Last updated 12 February 2014
+ show all updates
Added link to frequently asked health questions about flooding.
First published.