World news story
Senior UK Government Official Meets Minister Oppah Muchinguri-Kashiri
United Kingdom's Foreign and Commonwealth Office (FCO) Head of Central & Southern Africa Department Ms Danae Dholakia is visiting Zimbabwe.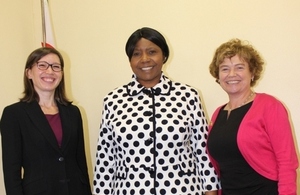 Ms Danae Dholakia, accompanied by the UK Ambassador to Zimbabwe Ms Catriona Laing CB visited the Minister of Water, Environment and Climate Honourable Oppah Muchinguri-Kashiri in Harare today.
They discussed combating the Illegal Wildlife Trade; the UK's ongoing support to the water sector in Zimbabwe, which has resulted in over 2 million people in rural areas gaining access to clean water; and mitigating the impacts of global climate change on Zimbabwe in the context of the forthcoming 21st Conference of the Parties in Paris in December. They also discussed the positive role UK expertise in designing Public/Private Partnerships may play in assisting Zimbabwe leverage investment in vital infrastructure, and the UK's Chevening Scholarship programme.
Ms Dholakia said:
I had a productive meeting with Minister Muchinguri where we discussed the UK and Zimbabwe's mutual commitment to tackling the illegal wildlife trade. The UK Government has mobilised the $19.5 Million Illegal Wildlife Trade Challenge Fund, designed to help combat the global scourge of Illegal Wildlife Trading.
I urge local conservation organisations to apply for support before the application window closes on 12 October. We look forward to continuing our support for the people of Zimbabwe through our aid programmes, technical assistance and broader cooperation.
Ambassador Laing said:
Today's meeting is a very practical demonstration of the UK's willingness to work together with Zimbabwe to tackle the global problem of the Illegal Wildlife Trade, and on broader conservation issues in order to promote sustainable development for the Zimbabwean people. Addressing these issues together will help to strengthen the ties between our countries.
Editors Notes:
Published 17 September 2015