News story
Secretary of State for Wales welcomes students from International University of Malaya-Wales to Cardiff
David Jones MP: "The UK's education ties with Malaysia are unparalleled"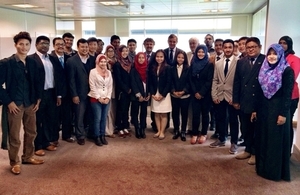 The first group of students to visit Wales from the International University of Malaya-Wales (IUMW) has been honoured today with a reception in Cardiff, hosted by the Secretary of State for Wales David Jones MP.
The students were at the start of a 10 day visit to the University of Wales and the University of Wales Trinity Saint David. This inaugural visit pioneers future visits and exchanges between Malaysia and Wales.
The UK government is committed to strengthening its relationship with Malaysia. There are about 14,000 Malaysian students in the UK to further their studies and an additional 58,000 studying for UK degree programmes or undertaking UK professional qualifications in Malaysia.
Secretary of State for Wales David Jones MP said:
"Malaysia's relationship with the UK is hugely important and our education ties are unparalleled and so I'm delighted to be hosting students from the International University of Malaya-Wales in Cardiff.
"Earlier this year I met business leaders in Malaysia as part of a trade and diplomatic trip to the region where I saw first - hand the huge opportunities that exist within these emerging markets.
"That's why as a government we are expanding links between Malaysia and the rest of the UK across the fields of trade, investment, sport, science and of course education to ensure that British companies are being given the best opportunities to compete in the global race."
Today's visit is also part of the universities' commitment to producing graduates who can operate in a global environment, are culturally aware and have highly developed communication and interpersonal skills. Close links with Wales are an integral part of the students' experience at IUMW.
Professor Dr Hamzah A Rahman, President of the International University of Malaya-Wales, said:
"This visit is part of International University of Malaya-Wales programme to expose the students to an international environment of studying.
"The programme has been arranged where IUMW students will be able to engage face-to-face and actively with their counter-parts in the UK so they can share and exchange knowledge, expertise and also cultural awareness.
"This is also a platform for the students to establish networking with other nationals. This networking is a valuable element in their course of study at IUMW and also later in their profession".
Professor Medwin Hughes, The Vice-Chancellor of the University of Wales, said:
"The International University of Malaya-Wales is an exciting new development which celebrates the long standing academic tradition of strategic partnerships between universities in Wales and Malaysia.
"This visit is the first of a series that will celebrate internationalism, cultural awareness and global citizenship between Malaysia and Wales.
"It also paves the way for student exchange for both countries and in promoting international education."
Shanker Kathiraisen, President of the International University of Malaya-Wales Students' Council, said:
"This is the first time that many of the students will have travelled to the UK. They are very excited by the venture and looking forward to working with their fellow students in Wales to collaborate on a range of projects".
The group comprises undergraduate and postgraduate students from the Faculty of Business Administration at IUMW as well as officials of the IUMW Student Council.
As part of their visit, the group will also visit local companies, meet local entrepreneurs, tour the Welsh Assembly and the Houses of Parliament.
David Jones hosted the students at The Wales Office's Caspian Point office.
Further information:
Malaysia is the largest market for UK transnational higher education provision (TNE). There are almost four times as many Malaysia-based students studying UK higher education programmes than Malaysians studying in the UK, according to data from the Higher Education Statistics Agency (HESA).

The British Council has operated in Malaysia since 1947 and each year 150,000 people attend British Council events or take part in its activities.

Around 60 UK tertiary institutions have links or collaborative arrangements with Malaysian counterparts and Malaysia has the third largest Chevening programme in the world.

The UK is a leading investor in Malaysia with companies and brands present in multiple industries including retail, financial and legal services, education, healthcare, manufacturing and oil and gas.

Total UK-Malaysia trade was £3.25billion in 2013, a 1% increase from 2012. The value of UK exports to Malaysia was £1.57billion in 2013, an increase of 6% since 2012.
Published 19 May 2014