Press release
Secretary of State for Wales celebrates The Prince's Countryside Fund
David Jones highlights the work of The Prince's Countryside Fund in Wales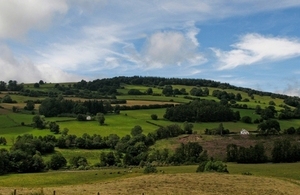 To mark the start of National Countryside Week a reception is being held in Westminster today (14 July 2014) to highlight the work of The Prince's Countryside Fund in Wales.
The event will be hosted by the Secretary of State for Wales David Jones MP and The Prince's Countryside Fund's Trustee, Lord Curry of Kirkhale.
Since the fund was launched in 2010 it has provided grants to support 9 projects in Wales and representatives from 4 of these will attend the reception.
A total of 92 projects have been supported nationally with over £3.8 million given to help our rural communities, farmers and young people.
The Prince's Countryside Fund has also directed emergency funding to farmers in Wales, particularly hill farmers who suffered the loss of large numbers of ewes and their lambs as devastating snow drifts affected parts of Wales.
Secretary of State for Wales David Jones, said:
I am delighted to be hosting the reception at Gwydyr House today which provides a valuable opportunity to highlight the excellent work of The Prince's Countryside Fund.

Their work supports a range of key projects in Wales, including apprenticeships and training for young people, practical and pastoral support for existing farmers, business support for women and projects to educate schoolchildren.
Helen Aldis, Manager of The Prince's Countryside Fund, said:
Wales is a very important rural area for the fund. We are looking for more projects to help in the region - as well as making contact with companies based in Wales to explore how they can join in and support our work.

The issues The Prince's Countryside Fund tackles - low farming incomes, decline in rural communities, access for training for young people and rural isolation are all major issues in Wales, We're dedicated to supporting projects that address these.
The Prince's Countryside Fund was set up by HRH The Prince of Wales to provide support to the multitude of remarkable organisations and individuals working tirelessly to keep farmers farming and our rural communities alive.
Further information:
The Prince's Countryside Fund, founded by HRH The Prince of Wales, who has a long-held commitment to supporting Britain's hard pressed rural areas, was set up by Business in the Community in July 2010.
So far it has given over £3.8 million in grants distributed to over 90 projects across the country, directly benefitting 64,000 people.
Projects that have been funded range from apprenticeships for budding hill farmers, training for young people to gain employment in the rural economy, community transport schemes in isolated rural areas and projects to educate school children about where their food comes from and why the countryside matters.
In addition to its normal application process, the fund also operates an emergency fund for times of need.
All the projects focus on supporting the people who care for our countryside and make it tick.
Prince's Countryside Fund Projects in Wales include:
Farming and Countryside Education
The aim of FACE is to educate children and young people about food and farming in a sustainable countryside. Representing 13,250 teachers and 129 farmers it is a nationwide charity. FACE has been awarded an additional grant of £150,000 over a two year period to extend the 'Countryside Matters' programme, through farm visits or school based activity such as growing or cooking fresh food.
Farming Community Network
The Farming Community Network (FCN) provides practical and pastoral support to help farmers find a positive way forward through their problems. The project addresses the opportunity to sustain British farming in the areas of greatest need. Funding has been given to increase awareness of their services in Wales by producing literature in the Welsh language and in Kent, Herefordshire and Cambridgeshire. The grant has meant more farm businesses have been supported as a result.
Pub is the Hub
Initiated by HRH the Prince of Wales, the Pub is the Hub facilitates projects by encouraging and helping licensees and communities to connect and share their experiences and work together to support and sustain their local services. The fund's grant has allowed the roll out of this programme into Wales, with the target of advising 92 communities.
WiRE
Women in Rural Enterprise is a national organisation supporting rural women who own or want to start a business and provides business support and start up advice. The Prince's Countryside Fund grant has supported their Network Leadership Programme. They aim to develop the leadership skills of network leaders who are providing the 'on the ground' advice.
The companies that support the fund are: Asda, Aquascot, Barbour, Barclays, Booths, Coutts, Dairy Crest, Dalehead Foods, Dovecote Park, Duchy Original, Ginsters, HSBC, Hunter, Jordans & Ryvita, Kerry Foods, Land Rover, Lloyds, McDonald's, Marks & Spencer, Moy Park, Musto, Produce World, Strutt & Parker, United Biscuits and Waitrose.
The public can make a donation online at Virgin Giving at the Post Office or by Text. Text PCF to 70300 and a £3 donation will be made to The Prince's Countryside Fund.
During this year's National Countryside Week, the Prince's Countryside Fund is encouraging everyone to get out and enjoy and appreciate the countryside by walking a country mile.
Image courtesy of Justin Norris on Flickr, used under Creative Commons.
Published 14 July 2014
Last updated 14 July 2014
+ show all updates
Added translation
First published.