News story
Search for 4 British sailors
Earlier this morning, the Ministry of Defence sent a military aircraft to join the search and rescue effort for the missing British sailors.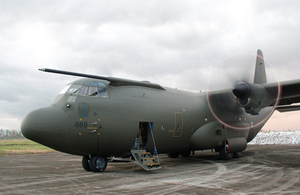 The UK is providing military assistance in the search for the 4 British sailors who went missing last week after their yacht, the Cheeki Rafiki, began taking on water.
A C-130 Hercules aircraft was deployed from RAF Brize Norton early this morning. It is currently on its way to Lajes in Portugal, where it will be refuelled before flying to join the international search and rescue effort over the Atlantic.
Defence Secretary Philip Hammond said:
The RAF's contribution to the search operation for the 4 missing British sailors will provide additional capability and resilience to the resumed search led by US and Canadian forces.

We all hope that the extensive resources being provided by our allies and the further support from the UK can help locate the missing yachtsmen as soon as possible.
Published 21 May 2014