Press release
Scotland's consumers to benefit from £1.5 million boost to Citizens Advice Scotland
The Secretary of State for Scotland, Michael Moore has welcomed a package of new funding for Citizens Advice Scotland.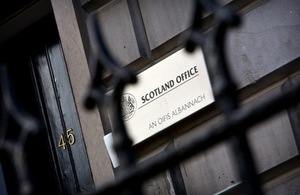 During a visit to Renfrewshire Citizens Advice Bureau in Paisley today, Consumer Minister Jo Swinson announced a funding package of £1.5 million to support Citizens Advice Scotland as it takes on more consumer protection responsibility to become a 'one-stop shop' for information, education and advice about general consumer matters.
From 1 April 2013, Citizens Advice Scotland will take on additional responsibilities in consumer advocacy and education in Scotland, as Consumer Focus and the OFT prepare to hand over their work in these areas. This means that when consumers need someone to take forward their complaint, provide advice and information or know what their consumer rights are, they now have one place to go.
This initiative is part of wider government reforms which will give greater clarity to consumers about where they need to turn for help and advice, through clearer responsibilities and better co-ordination between consumer bodies and enforcers.
The Secretary of State said:
"I am pleased a new package of funding has been announced today. Citizens Advice Scotland has a well-deserved reputation for providing a valuable, fair and impartial service for communities across Scotland."
"In tough economic conditions Citizens Advice Scotland continues to work hard to ensure Scottish consumers have the support they need."
Published 22 March 2013