Schools plan to increase focus on maths, new report shows
Surveys show schools are placing a greater emphasis on maths and other important academic subjects.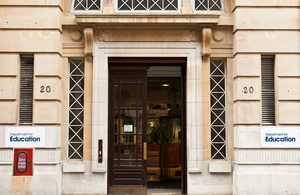 Schools across the country are planning to boost the amount of time and staff devoted to teaching maths, surveys out today (24/10/14) show, giving more young people a greater knowledge and understanding of the subject.
The surveys revealed that ahead of the introduction of a new, more demanding maths GCSE to be taught from next September:
more than a quarter of schools planned to increase the amount of maths taught per week
half of schools were introducing training programmes for maths teachers
more than one-third of schools said they had recruited additional staff to prepare for the new maths GCSE
more than three-quarters of senior leaders said they were confident that their school's curriculum reflects the new national curriculum for maths
The new reformed GCSE will demand a deeper and broader understanding of mathematical concepts, which is likely to require more teaching time. An international study from 2011 showed England lagged behind other countries in maths provision but today's news shows this is reversing, thanks to the government's plan for education.
Encouraging more pupils to study maths is a key part of the government's plan for education. Young people with an A level in maths go on to earn 7% to 10% more than similarly educated people without this qualification.
School Reform Minister Nick Gibb said:
It is very welcome news that teachers are driving forward the changes needed to help more young people than ever before fulfil their academic potential. Our plan for education is ensuring more pupils will benefit from an increased focus on maths and other key academic subjects.

Not only do employers value subjects such as maths, English, the sciences and humanities, but having a good grounding in these key fields gives students the knowledge and confidence needed to thrive in modern Britain.
Today's figures also show teachers are encouraging more students to take up challenging and valuable GCSE options. Previously, too many pupils were leaving school without the qualifications needed to fulfil their potential and realise their aspirations. Today's surveys show this is changing - more than 4 in 10 school leaders said they are encouraging more pupils to enter English Baccalaureate GCSEs, including English and maths, the sciences, humanities and languages.
The English Baccalaureate - the EBacc - was introduced to performance tables in 2010 to encourage more schools to offer a broad set of academic subjects. If a pupil achieves a C or better in English, maths, a language, history or geography, and 2 sciences, then they achieve the EBacc.
Since 2010 the proportion of pupils entered for EBacc has risen by more than 60%, giving thousands more pupils the qualifications needed to secure a good job, apprenticeship or place at university.
Further figures published this summer show that the number of students going on to study maths and science at A level has risen dramatically since June 2010:
biology is up 10.7%
chemistry up 21.5%
physics up 18.5%
maths up 15.3%
further maths up 20.1%
Notes to editors
The surveys were carried out between March 2014 and June 2014 and involved 3,855 responses from teachers and senior leaders from schools across England.
DfE enquiries
Central newsdesk - for journalists 020 7783 8300
General enquiries - for members of the public 0370 000 2288
Published 24 October 2014