Schools Minister congratulates students on their GCSE and diploma results
Schools Minister Nick Gibb congratulates students on their GCSE and diploma results and emphasises the coalition government's focus on doing more to narrow the attainment gap.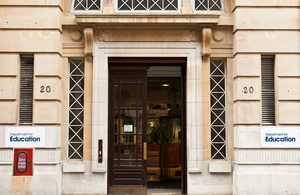 Schools Minister Nick Gibb today congratulated hundreds of thousands of students on their GCSE and Diploma results, and praised the hard work of pupils and teachers in schools this year. He highlighted the success of Academy providers in raising standards in challenging areas across the country and set out the Government's commitment to narrowing the attainment gap between the rich and the poor.
The 2010 GCSE, Foundation Diploma and Higher Diploma results were published today by the Joint Council for Qualifications - which represents the largest qualification awarding organisations in the country.
Schools Minister Nick Gibb said:
Students who received their GCSE results today have worked hard to achieve their success and I'd like to add my congratulations to those of their parents, friends and teachers. GCSEs are a crucial stepping stone in life - whether to further academic study, vocational education or into the workplace and training. I'd also like to thank the teachers and other school staff who have put so much effort into preparing young people for these exams.
While celebrating individual success and welcoming the fact that there has been an enormous take-up of GCSEs in the individual sciences, we believe that more needs to be done to close the attainment gap between those from the poorest and wealthiest backgrounds.
The continued success of Academies in some of the most challenging areas of the country shows what can be done. We are committed to expanding the number of Academies as we need to do more to raise expectations and help ensure that all children, regardless of their backgrounds, can excel.
That is why the Coalition Government is determined to drive ahead with our reform agenda: giving schools more freedom and professional autonomy; raising standards of behaviour in schools; creating a strong core curriculum which gives children the knowledge to think for themselves and allows teachers to inspire their pupils; raising the prestige of teaching and introducing the Pupil Premium to give support to the most disadvantaged students in the country.
On Academies
Mr Gibb said:
A number of Academies have achieved exceptional GCSE results, including English and Maths in areas where standards have previously been too low. For example, the Harris Federation has seen a 10 percentage points increase across all their academies, and ARK Academies have seen a 13 percentage points increase - a remarkable achievement and an example of what is possible with freedom, independence and relentless focus on raising standards for all.
In previous years Academy improvement rates have consistently outstripped the average national increase in the proportion of pupils achieving at least five GCSEs at A*-C including English and maths. It is because of this success, together with our determination to tackle inequality in education, that we want to see academy freedoms used more widely to drive up standards with the heads of outstanding schools working in partnership with weaker schools to help the poorest children, along with allowing great new schools to be set up by teachers, parents and charities.
On Foundation and Higher Diplomas
Mr Gibb said:
I also want to congratulate students who have achieved their Foundation and Higher Diplomas today.
There will be a place for the Diploma as long as there is demand for it. It is for schools and students to decide whether it is the best qualification for them. That's why we have made it easier for schools to choose the Diplomas they think are right for their students, rather than having to offer them in every subject. We want to strengthen vocational education so we will look carefully at how these qualifications are viewed by employers and universities.
Related links
Joint Council for Qualifications (JCQ)
Notes to Editors
The Connexions Direct service is also available from 8am through to 2am to advise young people on future options open to them, via e-mail, web chat, SMS or the free phone number 0808 001 3219 which includes a free call back option. For face to face advice, young people can continue to get support from Connexions services in making choices about their future learning or employment.
There is also advice for parents and young people via the DirectGov website.
All GCSE, Foundation Diploma and Higher Diploma results for England, Wales and Northern Ireland can be viewed at the Joint Council for Qualifications (JCQ) website.

The Exams Results Helpline, funded by the Department for Education, provides free, on-the-spot information and advice to GCSE and A Level students who do not receive the results they expect on: 0808 100 8000 from 18th to 28th August. For more information see the UCAS website.

Diplomas. The first five Diplomas (engineering; IT; creative and media; construction and the built environment; society, health and development) have been taught in schools and colleges since September 2008. Five more Diplomas were introduced in September 2009 (hair and beauty studies; environment and land-based studies; hospitality; business, administration and finance; manufacturing and product design). The further four Diplomas will be first taught from September 2010 (travel and tourism; public services; retail business; sport and active leisure).
The Government announced on 7th June 2010 that development of 'Phase 4' ('academic') Diplomas in science, languages and humanities, due to be first taught from September 2011, would be stopped. For more information read the full press notice on the Department's website.
The Government announced on 24th June 2010 that the development of Extended Diploma and entitlement to all Diploma lines of learning in all schools and colleges will be stopped. For more information read the full press notice on the Department's website.
DfE enquiries
Central newsdesk - for journalists 020 7783 8300
General enquiries - for members of the public 0370 000 2288
Published 24 August 2010