News story
Schmallenberg vaccine ready for use this summer
The Veterinary Medicines Directorate has given MSD Animal Health a licence to provide the new Schmallenberg vaccine.
This news article was withdrawn on
No longer a current news item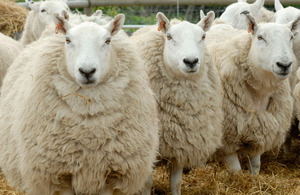 UK farmers will be the first in the EU to use a vaccine to help protect sheep and cattle against birth defects caused by the Schmallenberg Virus (SBV).
Defra's Deputy Chief Veterinary Office Alick Simmons said:
It is welcome news for British farmers to have the choice to vaccinate their animals. The vaccine will give extra assurance against this disease on top of the natural immunity we expect sheep and cattle to develop after initial exposure.
The Veterinary Medicines Directorate accelerated their assessment of the vaccine to make it available for use this summer.
CEO of Veterinary Medicines Directorate Pete Borriello said:
This is the culmination of intensive activity on the part of MSD Animal Health and the Veterinary Medicines Directorate to make a safe and effective vaccine available to tackle Schmallenberg.
Without in any way compromising the scientific rigour of our assessment process, we accelerated our assessment so that a vaccine will be available this summer.
This means it will be possible to vaccinate sheep and cattle before most of them become pregnant. This is important as it is during pregnancy when exposure to the virus can cause damage to the foetus.
More information is available on the Veterinary Medicines Directorate website.
Published 21 May 2013