Press release
Scenic sight restorations set to boost Great British Coast staycations
Projects dotted across the country have been awarded up to £50,000 each to help restore local landmarks to their former glory.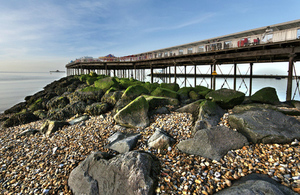 Lighthouses and lidos along the Great British Coast are among 15 projects benefitting from a share of £700,000 Communities Minister Mark Francois announced today (9 May 2016).
The projects – dotted across the country from Durham to Dorset – have been awarded up to £50,000 each to help restore local landmarks to their former glory.
Mr Francois hopes that the work will encourage a wave of enthusiasm for trips to our much-loved seaside areas – and help boost the £4 billion that tourism generates for coastal communities every year.
Coastal Communities Minister Mark Francois said:
Across our Great British Coast we've got heritage hooks to be proud of, but some of these places need some tender, loving, care.

That's why over the past year we've invested £3.7 million to get them back into ship-shape and now 15 more brilliant British attractions will be buoyed up by work to restore them to their former glory.

This country has sight-seeing gems that are a match for anywhere in the world and I'd urge people to take a trip down to the seaside to discover them.
Spruced-up seaside sights
Projects receiving funding today include:
The Churches Conservation Trust in Kent to provide access to the tower of St Peter's Church Sandwich offering a birds-eye view over one of the most complete medieval townscapes in England
Illfracombe Museum in Devon to protect and preserve its unique collection of Victorian curiosities right on the seafront
Maryport Coastal Community Team in Cumbria to brighten up the local lighthouse, getting it back into working order and putting the spotlight on Maryport as a tourist destination
Ryde town council on the Isle of Wight to revitalise the western gardens, creating an arts and performance area, around Ryde pier
South Shields council to develop options to help link tourist trails on the South Shields peninsula from historic sites like the Arbeia Roman Fort to the forthcoming North East Centre for the Written Word - The Word
Lancaster city council to give a new lease of life to a disused lido in Morecambe and turn into a welcome venue for festivals, arts and leisure
Download the details of all 15 projects (PDF, 143KB, 2 pages) .
This funding builds on the 77 projects awarded a share of £3 million through the Coastal Revival Fund in December 2015 which includes renovation work on Blackpool's iconic Winter Gardens.
The renovations to these much-loved venues – and the jobs and opportunity they create – are part of the wider government work to rebalance the economy and help all areas of the country thrive.
Through the Coastal Communities Fund £120 million has been invested across the UK in the last 3 years alone, protecting or creating up to 18,000 jobs. Analysis has shown that that money is well spent with every £1 invested having the potential to create an up to £8 boost to our coastal economies.
The Great British Coast has enormous economic potential and local people really care about the future of their seaside areas. That's why 118 Coastal Community Teams were created last year and given a share of £1.18 million to help drive forward coastal communities' growth.
These teams have already submitted more than 100 radical plans which set out a blue-print for growth, jobs and prosperity.
Photo by Mark Wheadon on Flickr. Used under Creative Commons.
Office address and general enquiries
2 Marsham Street
London
SW1P 4DF
Contact form http://forms.communiti...
General enquiries: please use this number if you are a member of the public 030 3444 0000
Published 9 May 2016