Press release
Investment in Great British coast is money well spent
New analysis shows the Great British coast could see an up to £8 boost for every £1 invested.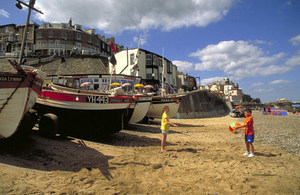 coastal resorts to realise a financial boost that is forecast to create or safeguard up to 18,000 jobs
potential for up to £8 boost for every £1 invested
£120 million invested in Coastal Communities Fund since 2012
New analysis shows the Great British coast could see an up to £8 boost for every £1 invested, Communities Minister Mark Francois revealed today (24 March 2016).
The minister said that the government's investment – whether through arts and heritage projects, new business hubs and tourist attractions – was bringing a financial boost and was forecast to help create or safeguard up to 18,000 jobs in seaside resorts.
Since 2012, the government has invested £120 million in projects through a dedicated Coastal Communities Fund.
Now a report today reveals this funding has the potential to generate an annual £320 million boost to the coastal economy over the next few years – equivalent of up to £8 for every £1 investment.
Communities Minister Mark Francois said:
We're determined to unleash the enormous potential of our Great British coast, which is why we've invested £120 million in the last 3 years alone.

We've already helped more than 200 projects get up and running across our much-loved seaside towns, bringing not just a wave of excitement but also protecting or creating up to 18,000 jobs.

And with every £1 we invest having the potential to create an up to £8 boost to our coastal economies - that's money well spent.
A sea-change of investment along Britain's coasts
More than 11 million people live in coastal communities, from major cities to seaside villages.
The tourism industry alone accounts for the employment of 250,000 people across 150 seaside resorts, and contributes £4 billion to the UK economy.
But to help coastal areas reach their economic potential, more than 200 seaside projects - which support the ambitions of thousands of small businesses, budding entrepreneurs and apprentices - have been launched, enhanced and improved thanks to Coastal Communities Fund grants.
Successful projects funded include:
Blackpool city council, awarded more than £1.9 million to radically transform its iconic illuminations, with the potential to create up to 500 new jobs in the local area
Cornwall Tate St Ives, awarded £4 million to renovate and expand its gallery so visitors can use it all year round. This is forecast to bring in an addition £87 million benefit to the local community over 10 years
The Welsh National Sailing Academy and Event Centre in Pwllheli, awarded £120,000 to create a venue which provides the beating heart of Welsh sailing and bring an extra 10,000 visitors in a year
The Hebridean Whale and Dolphin Trust, awarded over £123,000 for its work in nature tourism and education. Whale watching is a growing tourist activity which now employs over 130 people and is worth some £8 million to coastal economies across the UK
Ballycastle Town Market, awarded £96,901 to provide training, business support and facilities for local craftspeople and food producers, helping them take the first steps towards becoming sustainable businesses
Scarborough Market who were awarded £2.7 million to revamp the historic town market. It will create a hub for year round employment, an outlet for 30 new business entrepreneurs and a showcase for local food produce
The Old Low Light Heritage Centre, at North Shields Fish Quay, awarded £1 million to renovate the facility, train community curators, and create a flexible multi-use venue. Already this has attracted more than 12,000 visitors
On top of this, the government has also given its support to over 100 new local coastal teams to help revive seaside towns and decide where new investment goes.
Local people involved in the teams were given £10,000 to kick-start work and given expert guidance to help shape their own towns' future prosperity.
More recently 77 projects ranging from theatres to piers and lidos to lighthouses, received an addition share of £3 million in December through the Coastal Revival fund to help restore them to their former glory.
Due to the exceptional quality of the bids received, another £1 million coastal revival funding will be available in 2016 to 2017 for projects that narrowly missed out being selected. Further details will be announced in due course.
Further Information
The Coastal Communities Fund is financed by the government through the funding equivalent of 50% of the revenues earned from the Crown Estate's marine activities in England and the devolved administrations.
Details of future bidding for the Coastal Communities Fund will be announced later this summer. Awards to projects range from £50,000 to £4 million.
According to the Big Lottery Fund, the Coastal Communities Fund projects have the potential to generate a £320 million annual Gross Value Added.
This is an economic forecast which assumes that new jobs are created at an average salary of £25,000 and generate additional value in local economies over a 3 year period.
Read the Coastal Communities Fund annual progress report 2015.
Office address and general enquiries
2 Marsham Street
London
SW1P 4DF
Contact form http://forms.communiti...
General enquiries: please use this number if you are a member of the public 030 3444 0000
Published 24 March 2016