Press release
Iconic coastal heritage sites set for £3 million makeover
Seventy-seven projects to receive £3 million coastal revival funding.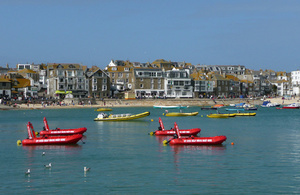 Blackpool's iconic Winter Gardens is one of 77 projects whose future is looking much brighter thanks to £3 million government funding, Communities Minister Brandon Lewis said today (11 December 2015).
Mr Lewis said the coastal revival funding will help secure these key seaside attractions "for generations to come".
Ranging from theatres to piers and lidos to lighthouses, the projects will each receive grants of up to £50,000 to kick-start restoration work.
They are also set to attract £30 million in private and public investment and could support up to 1,500 jobs.
Prime Minister David Cameron said:
Britain's coastline is part of what makes us one of the most beautiful countries in the world. Our coastal towns are cherished not just by the people who live within them but by the nation as a whole. The value of our tourism industry also means they are playing a crucial role in the UK's continuing economic recovery.

That's why I am proud to lead a government which is absolutely committed to supporting and reviving our coastal communities.

With a total £3 million pledged for coastal projects today, it is clear we have an optimistic and ambitious approach to Britain's seaside towns. We are providing a catalyst for further investment and securing treasured community assets for generations to come.
Communities Minister Brandon Lewis said:
From Berwick to St Ives, our coastal communities boast some iconic attractions, with millions visiting them each year.

But some of our best-loved buildings are falling into a state of disrepair - the £3 million Coastal Revival Fund aims to restore them to their former glory.

This funding will now kick-start the restoration work for these 77 projects across the country, so they can continue to be enjoyed by local people and tourists alike for generations to come.
Duncan Wilson, Chief Executive of Historic England said:
Many of the projects which will be funded through the Coastal Revival Fund will help to conserve our special coastal heritage. The historic buildings and places around our shores tell the story of our nation, from fishing ports and defensive structures to pleasure beaches and parks.

Several of the sites are on our Heritage at Risk Register and require urgent action before they are lost. This government funding will help a variety of community groups who look after these wonderful places to take important steps to revive them and ensure they play a continuing role in seaside economies.
Driving regeneration in seaside towns
The government is committed to reviving our seaside towns, so they can diversify their economy, attract investment and secure their long-term future.
Since 2012, over £120 million has been invested in coastal towns through the Coastal Communities Fund, which is helping local people regenerate cherished seaside areas.
Earlier this year, the government announced 118 Coastal Community Teams, to encourage local businesses, councils and voluntary groups to work together to create a long-term strategy for their community.
Today's £3 million Coastal Revival Fund forms part of these wider efforts, and will help communities to start the work to bring back into use buildings which have suffered years of disrepair.
Projects set to benefit from the funding include:
restoring the walls of the Pavilion Theatre, Blackpool within the Grade II* Winter Gardens building
plans to revive Grange over sands Lido Renaissance the 1930s derelict Art Deco saltwater lido
regenerating Madeira Drive on Brighton seafront
plans to regenerate the unique Art Deco saltwater lido in Shoalstone Pool, Brixham so it can become a top class tourist destination
plans to restore Tynemouth Outdoor Pool and create a leisure facility on the beach
restoring and reopening Paignton picture house - a Grade II listed cinema as an independent community led cinema
re-development of the Edwardian bathing facilities east of Tinside Lido including adding new 'pop-up' shops in alcoves
repairs to Marine Theatre in Lyme Regis to preserve this unique much-loved 19th Century seaside theatre from imminent collapse
restoration of the iconic lighthouse in Spurn, Kingston-upon-Hull so it can open to the public
the regeneration of Redoubt fortress in Eastbourne including repairs to the moat wall and gun carriage and the creation of a maze for visitors
the renovation of Whitby West Pier Lighthouse which will mean it can open for public access
conserving 2 of Gravesham's coastal heritage assets – New Tavern Fort and the remains of the Henry VIII Blockhouse to support it becoming a visitor destination
Further information
See the lists of the 77 projects set to receive coastal revival funding:
The Budget announced that the Coastal Communities Fund will be extended for another 5 years from 2017 to 2018, with pot of at least £90 million, giving communities another chance to bid for funding.
Due to the exceptional quality of the bids received, another £1 million coastal revival funding will be available in 2016 to 2017 for projects that narrowly missed out being selected. Further details will be announced in due course.
Office address and general enquiries
2 Marsham Street
London
SW1P 4DF
Contact form http://forms.communiti...
General enquiries: please use this number if you are a member of the public 030 3444 0000
Published 11 December 2015