World news story
Scaling Up Nutrition in Kenya
Maternal and Child Nutrition Programme launched in Nairobi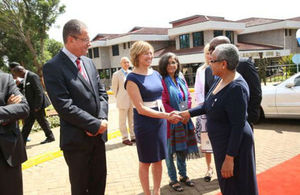 The Head of the Department for International Development (DFID)-Kenya, Lisa Phillips, attended the official launch of the Maternal and Child Nutrition Programme by the government of Kenya, the European Union (EU) and UNICEF. The launch was officiated by H.E First Lady Margaret Kenyatta and attended by Deputy Country Representative in UNICEF, Dr. Madhavi Ashok, and the Director of Medical Services, Dr Nicholas Muraguri among others. The event brought together high level nutrition stakeholders from government, UN agencies and development partners to share challenges, opportunities and lessons learned in efforts to use a multi-sectoral approach to address malnutrition in Kenya.
Malnutrition is a significant public health problem in Kenya with one third of Kenyan children stunted (below adequate height for age), amounting to 2.1 million children under five. Kenya has been identified in the 2013 Lancet series on under-nutrition as one of the 36 countries that carry 90 per cent of the global burden of stunting. Malnutrition affects Kenya's socio-economic development and potential to reduce poverty ahead of its "Kenya Vision 2030" goal of transforming Kenya into a globally competitive and prosperous nation with a high quality of life by 2030.
The government of Kenya joined the global movement for Scaling Up Nutrition (SUN) in November, 2012. A package of high impact nutrition interventions has been adopted to accelerate the reduction of high malnutrition rates, and a National Nutrition Action Plan put in place to implement these strategies.
Speaking at the event, Lisa Phillips said:
The UK appreciates the efforts made by Kenya in addressing under-nutrition and micronutrient deficiency among children below 5 years of age and women of reproductive age. We appreciate the involvement of Her Excellency the First Lady as a patron of the SUN movement in Kenya and encourage the national government to put more emphasis on policies that will address stunting to help the country achieve its economic potential
We ask the county governments to take ownership and increase their commitment to tackling under-nutrition. In particular, we urge county governments to consider increasing their budgetary allocation to nutrition and to enhance the integration of nutrition within primary health. A malnourished child suffering from malaria does not need to be seen by two different healthcare workers.
UKaid is helping improve nutrition globally and supports nutrition at both global and country levels. In Kenya, UKaid is supporting a 4-year programme (2012 - 2016) to deliver an integrated package of health and nutrition services to malnourished children and pregnant women in 11 Arid and Semi- Arid counties namely; Turkana, Mandera, Wajir, Garissa, Tana River, Baringo, Marsabit, Samburu, West Pokot, Laikipia and Isiolo. The programme has so far reached 80,000 malnourished children and over 30,000 malnourished pregnant women
Published 19 February 2015