Press release
Salmonella outbreak investigation: update
Salmonella case reporting slowed over the last week.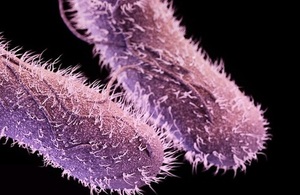 PHE is continuing to investigate a national outbreak of Salmonella Enteritidis. Total reported numbers have reached 247 cases, from 158 on 15 August 2014.
The additional cases are not new infections from the last 7 days, but historical cases reported to PHE during that week. Encouragingly, overall case reporting slowed over the last week.
Dr Paul Cleary, consultant epidemiologist at PHE, said:
Investigations into the recent Salmonella Enteritidis outbreak are progressing, at both a national and European level.

There is now evidence to indicate that cases in Europe with the same strains of Salmonella infection were associated with consumption of eggs from a single source. This egg supply also reached distributors and food outlets in England, but at this stage we cannot conclusively demonstrate this is the infection source in this country.

We are continuing to work with the Food Standards Agency and public health organisations in Europe but, importantly, the decline in Salmonella case reporting this week alongside other elements of our investigations reassures us that the current risk to public health is low.
Salmonella Enteritidis is a bacterium that causes gastrointestinal illness and is often associated with poultry or eggs. Symptoms include diarrhoea, stomach cramps and sometimes vomiting and fever. Symptoms are self-limiting and most people recover without treatment although it is important to remain hydrated.
Ends
Notes to editors
Regional case breakdown (at 22 August 2014):
Hampshire - 99 cases
London – 30 cases
Cheshire and Merseyside – 39 cases
West Midlands – 54 cases
Interpretation of the current case count in an outbreak should take account of reporting delays.
By the time a person with food poisoning has (1) sought medical attention, (2) been tested for infection at a local laboratory, with (3) the sample then being sent on the national reference laboratory for further specialised analysis to identify the strain, it is not unusual for a couple of weeks to have passed from the onset of illness; therefore the current case count reflects the situation approximately 2 weeks previously.
Even when an outbreak is over and no further new cases are occurring, we expect to see cases with delayed reporting added to the current case count for a further couple of weeks.
On 15 August 2014, it was confirmed 3 hospital patients in the Birmingham outbreak sadly died. Salmonella was not cited as a contributing factor on the death certificates of 2 patients and the coroner's report concerning the third patient is pending.
More information about salmonella.
Advice on the safe handling of eggs for caterers and consumers can be found from the Europarchive website and the NHS website.
Read the 15 August 2014 Salmonella press release.
Public Health England exists to protect and improve the nation's health and wellbeing, and reduce health inequalities. It does this through advocacy, partnerships, world-class science, knowledge and intelligence, and the delivery of specialist public health services. PHE is an operationally autonomous executive agency of the Department of Health. www.gov.uk/phe Follow us on Twitter @PHE_uk
Infections press office
PHE press office, infections
61 Colindale Avenue
London
NW9 5EQ
Published 22 August 2014