Press release
PHE investigating national outbreak of Salmonella
156 people affected in national outbreak of Salmonella.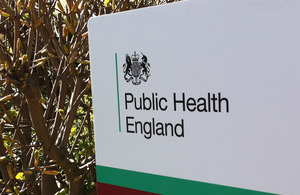 Public Health England (PHE) is investigating a national outbreak of a type of Salmonella Enteritidis which has affected 156 people.
To date, 55 cases have seen in Hampshire, 25 in London, 33 in Cheshire and Merseyside, and 43 in the West Midlands. Cases have also been seen in Austria and France.
In England, the cases occurred as isolated clusters over several months and have been managed locally, but are now being reassessed as potentially linked under a national investigation.
Dr Paul Cleary, a consultant epidemiologist leading the PHE investigation, said:
We are working with our colleagues across PHE, the Food Standards Agency, in local authorities and with other public health organisations in Europe to investigate the cause of this outbreak.

We are making good progress and hope to have more conclusive evidence shortly. We will continue to monitor the situation and if there is any further public health action necessary then we will ensure that this takes place.
Testing using genetic typing methods has revealed that all of the cases are infected with closely related strains, indicating that the cause of the illness is from a single source. Some food and environmental samples from catering outlets have tested positive for Salmonella with the same genetic profile as seen in the outbreak cases.
Salmonella Enteritidis is a strain of bacteria that causes gastrointestinal illness and is often associated with poultry or eggs. Symptoms include diarrhoea, stomach cramps and sometimes vomiting and fever. Symptoms are self-limiting and most people recover without treatment although it is important to remain hydrated.
Ends
Notes to editors
Further breakdown of Salmonella Enteritidis 14b cases:
Hampshire: 55 cases; 32 of whom were connected with a single oriental restaurant
London: 25 cases but little is known of the food histories of the cases; 11 people have been hospitalised although it is unknown as to whether the salmonella infection was the cause of their hospitalisation
Cheshire and Merseyside: 33 cases; 31 were connected with an outbreak at a single oriental takeaway
West Midlands 43 cases; 34 of whom were connected with the Birmingham Heartlands Hospital outbreak
France: 49 people have been affected so far
Austria: we have no figures on how many people have been affected
There has been no increase in cases or outbreaks of in Scotland or Wales.
To avoid getting infected with salmonella:
wash your hands thoroughly with soap and warm water

before preparing and eating food
after handling raw food
after going to the toilet or changing a baby's nappy
after contact with pets and other animals, especially reptiles and amphibians
after working in the garden

keep cooked food away from raw food
store raw foods below cooked or ready-to-eat foods in the fridge to prevent contamination
wash raw fruits and vegetables thoroughly before eating
cook food thoroughly, especially meat, so that it is piping hot
keep all kitchen surfaces and equipment including knives, chopping boards and dish cloths clean
do not drink untreated water from lakes, rivers or streams
do not keep reptiles or amphibians in households where there is a child under 5 year of age, or someone with a weakened immune system
if someone has salmonella, wash all dirty clothes, bedding and towels in the washing machine on the hottest cycle possible. Clean toilet seats, toilet bowls, flush handles, taps and wash hand basins after use with detergent and hot water, followed by a household disinfectant
Advice on the safe handling of eggs for caterers and consumers is available from the TNA website and NHS Choices website.
PHE exists to protect and improve the nation's health and wellbeing and reduce health inequalities. It does this through advocacy, partnerships, world-class science, knowledge and intelligence, and the delivery of specialist public health services. PHE is an operationally autonomous executive agency of the Department of Health. www.gov.uk/phe Follow us on Twitter @PHE_uk
PHE Press Office, infections
61 Colindale Avenue
London
NW9 5EQ
Published 15 August 2014