Press release
Rural Roadshow comes to Isles of Scilly
Insights are helping to ensure that rural policies meet the real needs of rural communities and businesses.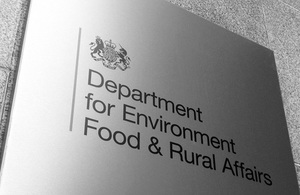 A 12-year fundraising campaign to build a new community complex and transform life on the Isles of Scilly was cause for celebration this week after Defra awarded a £500,000 grant to fund a new centre.
Defra minister Lord Taylor of Holbeach will be joining in the celebrations on St Martin's as he visits the island as part of his Rural Roadshow. He will visit the site of the proposed community hall, which will feature a library and gym, and include space for social events, medical care and ante-natal classes.
Lord Taylor's Scillies visit is one in a series of fact-finding Rural Roadshows on which all Defra ministers are going on this summer to ensure the voice of rural communities and businesses is heard within Government.
Commenting on the new community complex, Defra Minister, Lord Taylor said:
"This is long-awaited good news for islanders, who have worked tirelessly to raise money to bring the services they need into the local community. I'm thrilled that our investment has made their dream a reality."
Cheryl Davis, Treasurer of St Martin's Community Hall and Reading Rooms Committee, said:
"The committee has done a fantastic job in raising £120,000 over twelve years, but the extra funding has moved on our plans for the new building by years.  We have many young people on the island and the new centre will open up new opportunities for them all and will provide a social hub for the whole community."
St Martin's community complex is one of over fifty business and community projects that have been funded through Defra's Rural Development Programme for England.
On his Rural Roadshow, Lord Taylor will visit St. Martin's Vineyard, which hopes to double production to 4,000 bottles a year following a £16,000 grant from the scheme.  Defra's investment has also enabled St. Martin's Vineyard to maximise the business opportunities in the islands' tourist trade, with plans to increase visitor numbers from 2,000 to 3,000 each year.
He will also visit Scilly Organics, which grows fruit and vegetables for islanders. The organic market garden was set up eight years ago on five acres of land.
Lord Taylor will conclude his visit by meeting rural community and business leaders from the Rural Cornwall and Isles of Scilly Partnership. This is one of seventeen Rural and Farming Networks invited to speak directly to Government about the issues faced in their region. Their insights are helping to ensure that rural policies meet the real needs of rural communities and businesses.
Defra Minister, Lord Taylor continued:
"The Scillies is one of the most idyllic holiday destinations in the country but I'm here to find out what we can do to make it an even better place for the people who live and work here all year round.  I'll learn from the experiences of really enterprising entrepreneurs and listen to their advice on what more we can do to help rural businesses take new opportunities to grow."
Published 15 June 2012