World news story
Rugby World Cup 2015 - Travel preparation
Apply for a Visa in time to watch the Rugby World Cup in the UK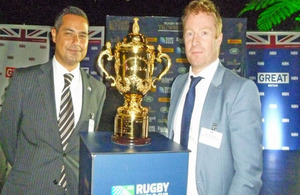 Are you going to the UK to watch the Springboks at the Rugby World Cup? If you already have a business visit visa, or a general visit visa, then you're all set. But if you don't have a visa yet, please apply as soon as possible, allowing plenty of time before you travel.
We aim to make decisions on most visit visa applications within 15 working days, so if you want to see the Springboks' first match on 19 September, don't leave it any later than the week of the 24 August to apply!
You can find full guidance on how to apply for a UK visit visa at https://www.gov.uk/standard-visitor-visa.
Published 14 August 2015