Royal Navy Medic attends NATO Summit in Chicago as part of Ceremonial Party
Heroic Royal Navy Medical Assistant Liam O'Grady, who saved four colleagues in Afghanistan in 2011, represents UK.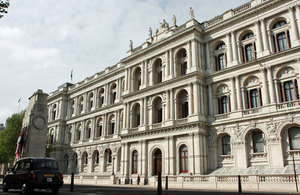 This weekend leaders from around the world have gathered for the NATO Summit in Chicago. Prime Minister David Cameron, Foreign Secretary William Hague, and Defence Secretary Philip Hammond will represent the UK and attend the Summit.
Also in attendance at this weekend's NATO Summit will be a Royal Navy Medical Assistant, Liam O'Grady, who saved the lives of four colleagues injured in a grenade attack in Afghanistan in 2011. Having just received a Military Cross this week from Prince Charles at Buckingham Palace, Medical Assistant (MA) O'Grady has been chosen to attend the NATO Summit in Chicago as part of the ceremonial party.
Speaking about the honour of attending the NATO Summit, he said, "I am very excited about being part of such a high-powered event in Chicago. It is an honour to take part. As part of the ceremonial party I am representing the UK, and my Military Cross citation will be read out."
A Military Cross is granted in recognition of exemplary gallantry during active operations against the enemy on land. In 2011, MA O'Grady, despite shrapnel wounds to his leg and face, ran across open ground while grenades were exploding around him to drag his stricken patrol sergeant to safety. He gave immediate lifesaving treatment to the commander who had severe wounds to his chest and abdomen before going on to stabilise three other wounded colleagues. Only after the commander had been extracted by helicopter and he had helped carry the other casualties 800 metres uphill through hostile territory did MA O'Grady allow his own wounds to be treated.
According to MA O'Grady's citation the medic displayed 'exemplary gallantry, selflessness and devotion to duty'. His 'instinctive bravery and total disregard for his own safety, followed by exceptional handling of a mass-casualty situation as a lone medic while wounded and under threat of further attack' undoubtedly saved the life of his patrol sergeant. While the patrol's second-in-command organised the remainder of the team to fire back at the insurgents, MA O'Grady attended to the wounded with 'coolness and professionalism despite the risk of further injury to himself'.
MA O'Grady is now based on board Plymouth warship HMS Sutherland. He had been in the Royal Navy for just two years when he was sent on his first deployment to Afghanistan and attached to an Army patrol occupying Checkpoint Richka, a tiny compound in the Green Zone of the Upper Gereshk Valley. He has now fully recovered from his injuries.
Search the news archive
Published 21 May 2012