News story
Royal Marines leave Afghanistan for last time
The last full Royal Marines commando group to serve in Afghanistan on Operation Herrick is returning to the UK.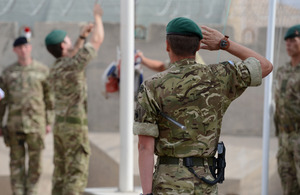 The end of 40 Commando's tour marks the end of more than a decade of Royal Marines deployments in the country.
At Main Operating Base (MOB) Price, troops from 40 Commando symbolically lowered the Royal Navy's white ensign that has flown above their base in the Nahr-e Saraj district for the past 6 months - the last time the flag will fly in Helmand province.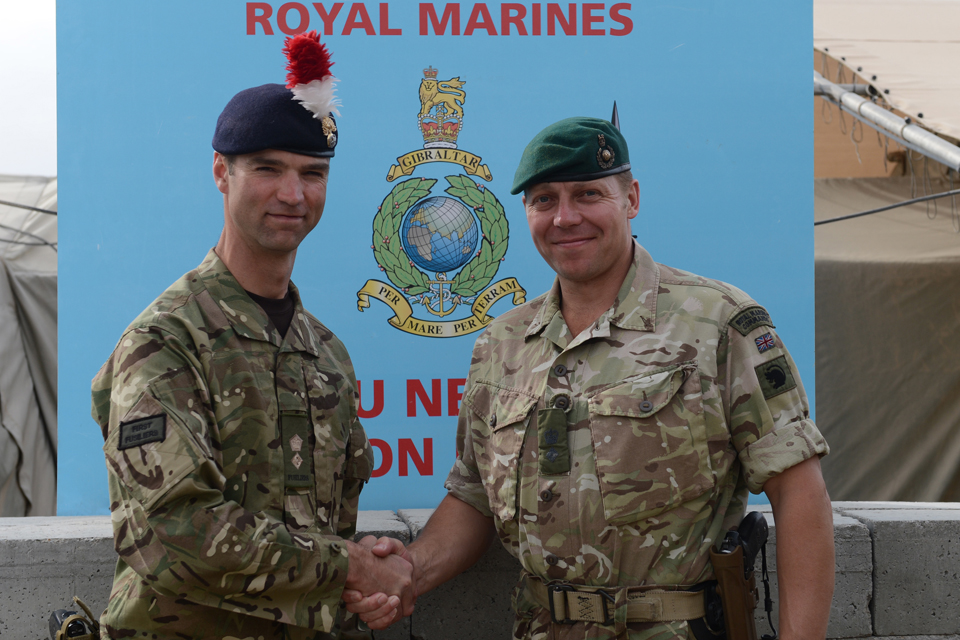 First in, last out
40 Commando is the final Royal Marines unit to serve in Afghanistan after successive deployments which have seen the Green Berets serve in areas such as Sangin, Nahr-e Saraj and Musa Qal'ah.
40 Commando was also the very first British unit to deploy to the country in 2001, securing Bagram Airfield and going on to patrol the streets of Kabul.
The 7,200-strong Royal Marines Corps has deployed its own units to Afghanistan 12 times, with many marines also deploying attached to other units with various brigades over the past 12 years.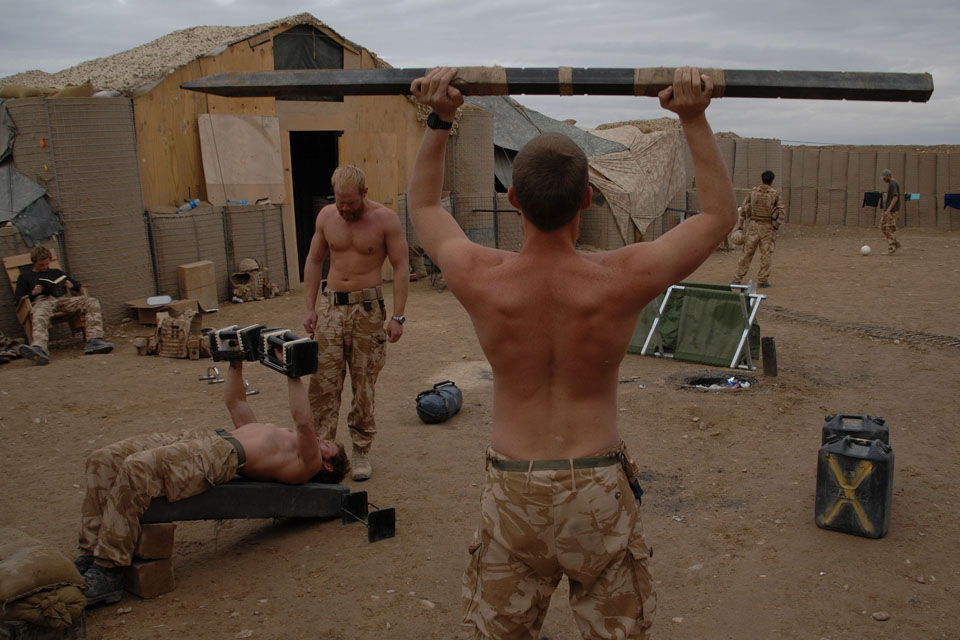 Royal Marines have been awarded nearly 200 operational honours for acts of bravery and distinguished service in Afghanistan, including a George Cross, 7 Distinguished Service Orders and 10 awards of the Conspicuous Gallantry Cross, including 1 posthumously.
40 Commando have now handed over their area of responsibility to 1st Battalion The Royal Regiment of Fusiliers.
Improving security
The commando group has seen security improve dramatically during the tour. Working out of MOB Price, renamed HMS Price during the Royal Marines' stay in line with Royal Navy tradition, 40 Commando has developed the Afghan National Army and Afghan police units in the area to take on responsibility for security and both the marines and Afghan forces have worked together to successfully tackle the insurgency.
In the past year, the number of UK bases across Helmand has reduced from 80 to 12 as they are handed over to Afghan forces or dismantled, in line with growing Afghan security capability. MOB Price is expected to be handed over to the Afghans in due course.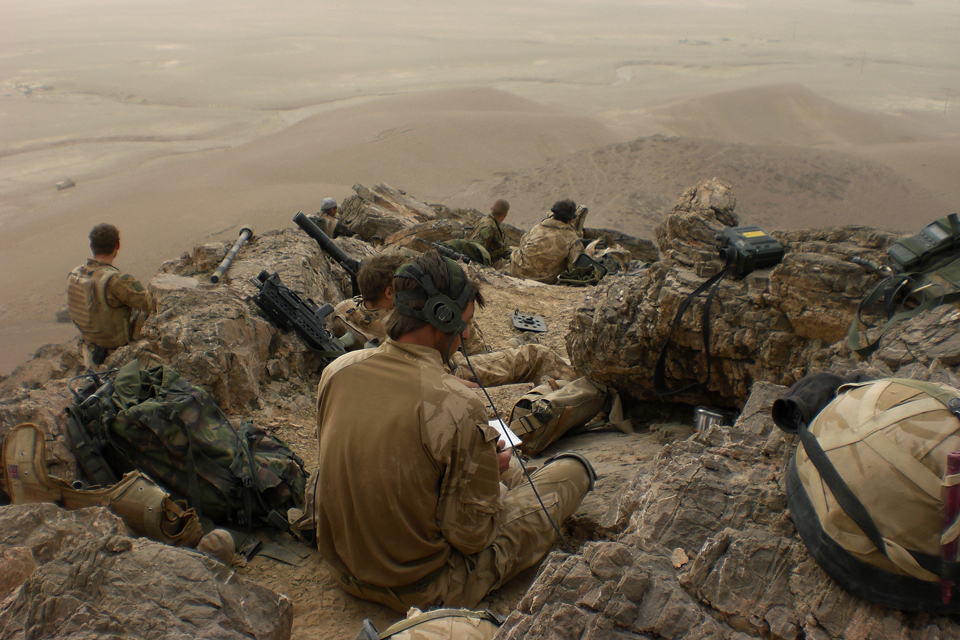 Impressive progress
Defence Secretary Philip Hammond said:
The courage of the Royal Marines, and indeed of all our Armed Forces who have served in Afghanistan over the past decade, has been truly outstanding. Their commitment has made sure that transition of security to Afghan control is deliverable by the time we end our combat operations in December 2014.
The hard work of 40 Commando Royal Marines in Afghanistan over the winter has led to impressive progress in the capabilities of Afghan forces as they take on security responsibility, with decreasing levels of assistance from UK and ISAF forces.
It is these Afghan forces, developed and trained by UK personnel, who will ensure that Afghanistan never again provides a safe haven for terrorists.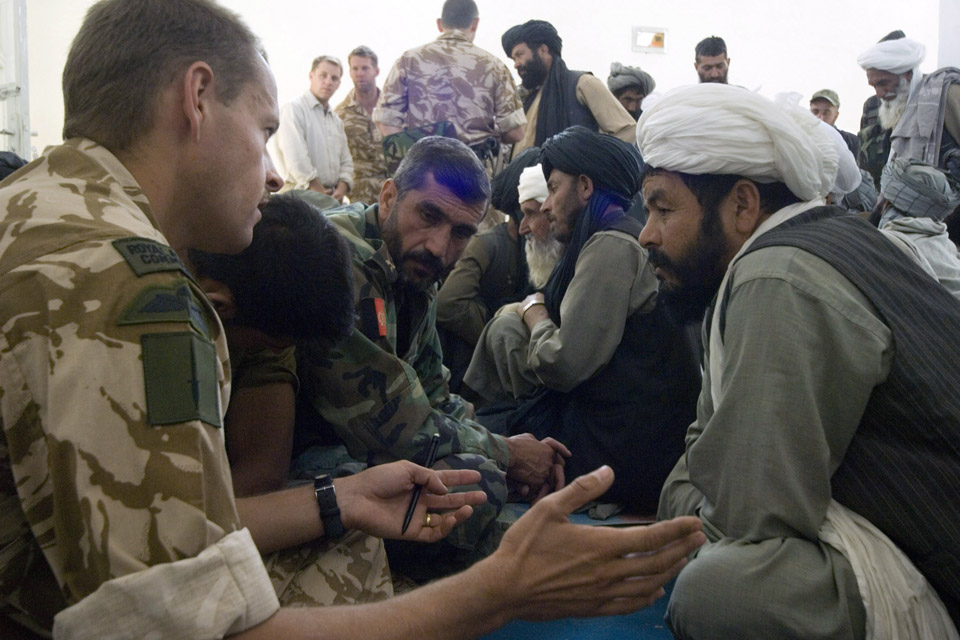 Leading the way
Lieutenant Colonel Matt Jackson, Commanding Officer of 40 Commando Royal Marines, described his unit's work in Afghanistan as 'absolutely exemplary'.
He said:
The commando group has been able to transfer lead security responsibility from ISAF to the Afghan National Security Forces in a very difficult area of central Helmand.
Working together over the winter, we have given the Afghan Army and the Afghan Police the confidence in their own abilities to operate together. More importantly, we have given them the belief that they can operate independently from us; they now know that they are good enough to face down any future challenges that lie ahead.
This is in no small measure due to the sacrifice made not just by the 61 Royal Marines who have lost their lives in this campaign, but by all Service personnel.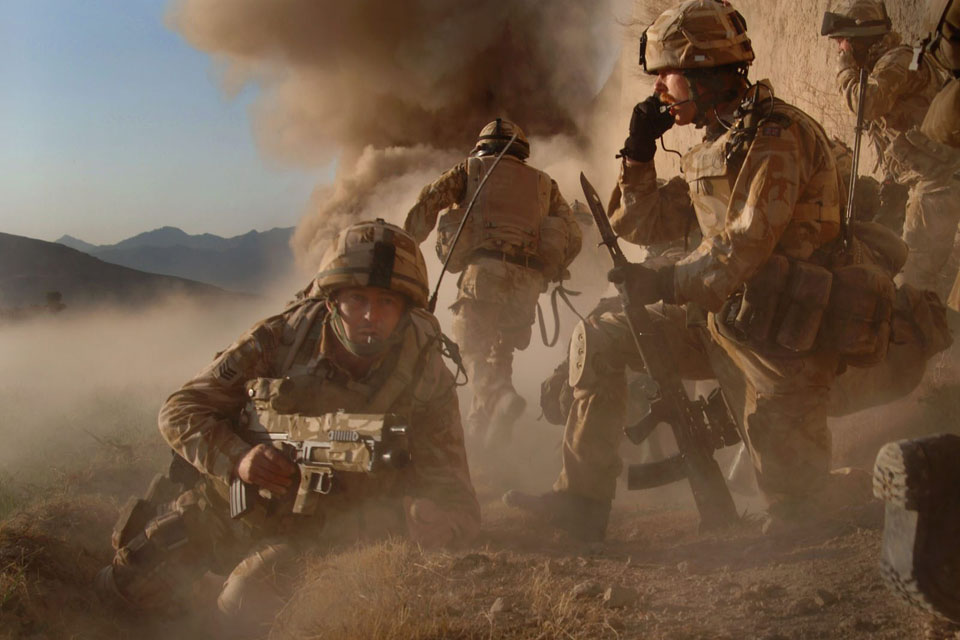 Tragic losses not in vain
After first deploying to Afghanistan in October 2001, 40 Commando returned to the country on operations in 2007, 2010 and 2012.
Chief of Staff for 40 Commando, Major Karl Gray, said:
Having been here on and off since 2001, it has been really encouraging to see the tangible progress that the Afghan National Security Forces have made in their ability to legitimately and effectively provide security in the region.
This is testament to the sacrifices and efforts made by each operational tour. We have sadly lost many outstanding marines and soldiers during this campaign and, although only a small comfort to the families of the bereaved or injured, I can honestly say that these tragic losses have not been in vain.
Everyone who has served here has made a difference, not only in Afghanistan but also to the security of the UK by preventing Afghanistan being a haven for terrorists.
40 Commando served with Task Force Helmand, led by the British Army's 4th Mechanized Brigade, which officially transfers authority to the men and women of 1st Mechanized Brigade tomorrow, 10 April.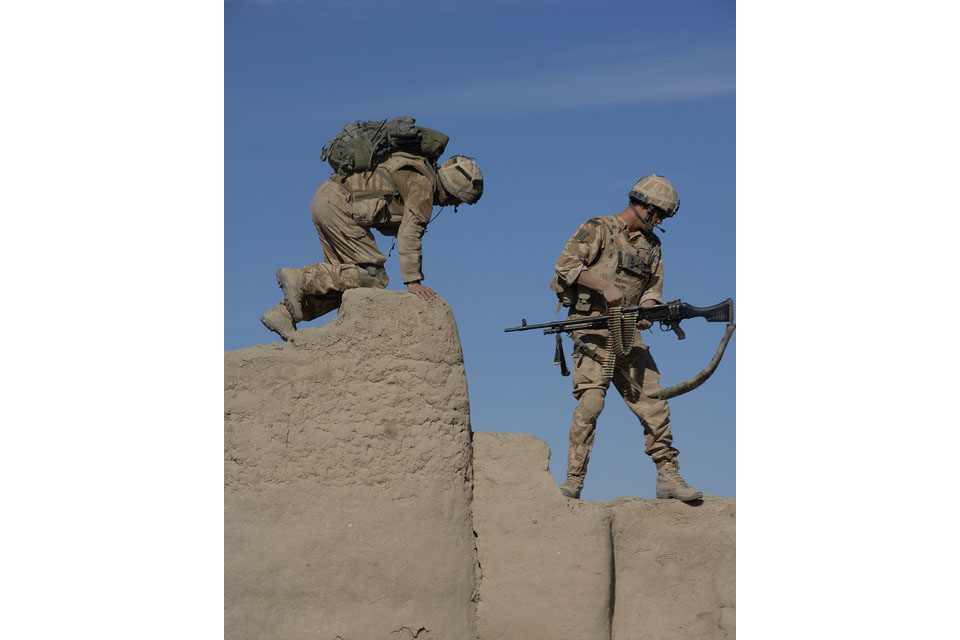 Next for 40 Commando
The Royal Marines of 40 Commando will now return to their base in Taunton, Somerset, to start training for contingency operations; providing part of the UK's amphibious warfare capability.
40 Commando will take part in a medals parade through Taunton on 16 May.
A number of Royal Marines will continue to serve in Afghanistan on an individual basis, working alongside colleagues from other Services, as the UK continues to support the development of the Afghan National Security Forces.
Published 9 April 2013