News story
Roundtable meeting to discuss wide-ranging topics surrounding body image
Ministers met with women's organisations, business women and campaigners to discuss body confidence, parenting and families.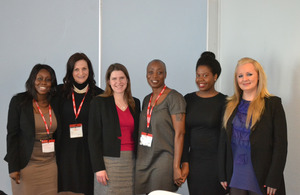 On 13 March, Minister for Women and Equalities, Jo Swinson met with a group of women to discuss black and minority ethnic (BME) body confidence issues.
Those attending the meeting included entrepreneurs, businesswomen and campaigners, each with a nuanced understanding of the particular and complex issues affecting the body image of black and minority ethnic women, and how this may affect their life choices and aspirations.
The wide-ranging conversation covered media representation of BME women, role models, the cultural meanings of 'good hair', harmful practices such as skin bleaching, and the roles of parents and schools in developing self-esteem.
Further information
Published 13 March 2013