News story
Revised code of practice for driving instructors
A revised code of practice for approved driving instructors (ADIs) has been published.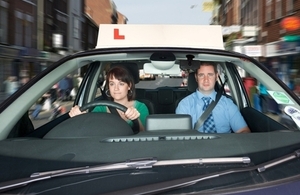 The revised code, which is voluntary, has been drafted by some of the associations representing ADIs. It's a framework within which all instructors should work.
Professional standards
The code has been accepted and welcomed by the Driving Standards Agency (DSA).
Mark Magee, ADI Registrar, said:
DSA and the driving instruction industry place great emphasis on professional standards and business ethics.

I'm particularly pleased that the new code has been drafted by those representing ADIs. I'd encourage all ADIs to sign up to the code as a way of showing their commitment to providing a professional service to their clients.
How to sign up to the code
You can sign up to the code using online instructor services.
You can also show your commitment to doing at least 7 hours of continuing professional development each year.
DSA has updated the online service so you can now show your commitment to both of these separately. Until now, you had to agree to both together.
These commitments are then shown to learner drivers on the 'find your nearest driving instructor' service on GOV.UK.
You'll need to update your registration to show either of these commitments, even if you've done it before. They won't show on the 'find your nearest' service until the day after you've updated your registration.
Published 3 July 2013