Press release
Reversing the tide of the UK tuberculosis epidemic
Primary-care based screening programme could help tackle tuberculosis (TB) in the UK.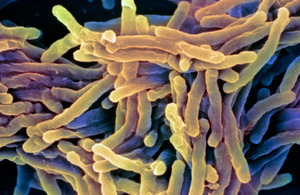 A primary-care based screening programme could help tackle TB in the UK according to a comment from Public Health England (PHE) published in The Lancet today (18 October 2013).
London has the highest rate of TB of any western European capital and the UK will have more TB cases than the USA within 2 years, if current trends continue.
Lead author Dr Dominik Zenner, head of the PHE TB screening unit said:
While a programme to screen for active tuberculosis before arrival to the UK is already in place, it does not detect latent tuberculosis infection in at-risk groups such as immigrants living in the UK, disadvantaged and vulnerable communities, or people on immunosuppressive therapy.

The PHE researchers suggest a pragmatic solution might be a quality-assured primary-care based screening programme. This would involve screening for latent TB among high risk groups - people aged 16 to 35 years, who entered the UK in the past 5 years from a country with an incidence of 150 cases per 100,000 or higher.
Professor Ibrahim Abubakar, head of PHE TB section, and senior author on the paper said:
We urgently need more investment into services for tuberculosis diagnosis, treatment and prevention, targeted at high-risk and hard-to-reach groups and delivered as part of a coordinated national tuberculosis-control strategy.
Latest figures show 8,751 TB cases were reported in the UK in 2012, slightly lower than the 8,963 cases reported in 2011. As in previous years, almost 3 quarters of cases were in people born in countries where TB is more common.
Dr Paul Cosford, Director for Health Protection and Medical Director at PHE, said:
TB is a major priority for PHE and we are working with key partners to oversee the development of a stronger national and local approach to TB control.

We are determined to see a sustained reduction in TB, and will work tirelessly to implement evidence based national strategies and to support local partners in those areas where the burden is greatest.
Ends
Notes to editors:
Read the PHE Tuberculosis in the UK Report (2013).
TB is an infection caused by bacteria. It usually affects the lungs, but can affect other parts of the body. TB is transmitted when someone who has the infection coughs or sneezes, but it requires close prolonged contact in order to spread from person to person. For more information about tuberculosis visit PHE's dedicated web pages.
Public Health England's mission is to protect and improve the nation's health and to address inequalities through working with national and local government, the NHS, industry and the voluntary and community sector. PHE is an operationally autonomous executive agency of the Department of Health. Follow us on Twitter @PHE_uk
Infections press office
PHE press office, infections
61 Colindale Avenue
London
NW9 5EQ
Published 18 October 2013