News story
Revalidating doctors in PHE
How all doctors and other public health professionals connected to PHE will confirm they are fit to practise.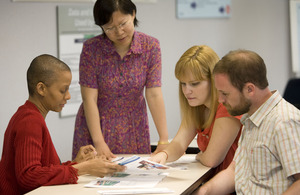 Typically every 5 years, every registered doctor with a licence must demonstrate to the General Medical Council (GMC) that they are fit to practise – a process called revalidation. At PHE this requirement applies to all licensed medical doctors working as consultants and those in non-consultant roles. For non-medical public health consultants and specialists, the UK Public Health Register (UKPHR) is developing a similar system of professional revalidation, likely to be introduced next year.
Revalidation assures patients, employers and other healthcare professionals that licensed doctors are up-to-date and are practising to professional standards.
Most licensed doctors have a 'prescribed connection' to their 'designated body', the organisation that will provide them with a regular professional appraisal and help them with revalidation.
From 1 April 2013 PHE is the designated body for:
all licensed doctors employed by PHE

public health doctors employed by local authorities

public health and other clinical academics employed by universities and colleges, who hold honorary contracts with PHE
The GMC will revalidate doctors based on a recommendation received from Professor Anthony Kessel, the Responsible Officer (RO) for PHE. This recommendation uses their annual appraisal and information from clinical governance systems within PHE.
Revalidation in PHE is an NHS networks page that provides a central information resource for all doctors and other public health professionals revalidating through PHE, including those who may not be employed in PHE locations.
If you are not sure about your designated body and prescribed connection, or if you have additional questions not covered by this page, please contact revalidation@phe.gov.uk.
Published 15 April 2013