Response to the FAC's report on Afghanistan and Pakistan
The Foreign Secretary William Hague has presented to Parliament his response to the Foreign Affairs Committee's fourth report on the UK's foreign policy approach to Afghanistan and Pakistan.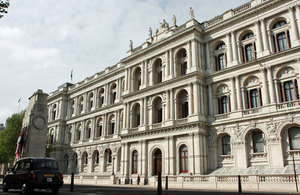 Commenting on the response, the Foreign Secretary said:
"I welcome the Foreign Affairs Committee's scrutiny on Afghanistan and Pakistan. Both countries remain top foreign policy priorities for this Government, and it is important that issues around them are properly debated.
Our response underlines why we are in Afghanistan. British troops are there to safeguard our national security. I pay tribute to their sacrifice and courage in doing this. Our considered assessment is that there remains a risk to the UK from violent extremism emanating from Afghanistan and Pakistan. Without the current presence of international forces in Afghanistan, Al Qaeda would be able to re-establish itself and the threat of terrorism to the UK from the region would rise.
The death of Usama Bin Laden, although a positive development in terms of our counter-terrorism effort, does not change our strategy in Afghanistan. We remain committed to our military, diplomatic and development work to build a stable and secure Afghanistan. We will work, with our Afghan and international partners to ensure that Afghanistan can never again be a safe haven for international terrorist groups like Al Qaeda. This is a decisive moment. The Taliban should recognise that now is the time to separate themselves from al-Qaeda and participate in a peaceful political process.
Since the Committee began its inquiry there has been encouraging progress. President Karzai announced the start of the transition of security responsibility to Afghan forces on 22 March. This will be completed by the end of 2014, when Afghan forces will have taken over security across the whole of the country.
I am pleased that Lashkar Gah is included in the first phase of transition. This is a testament to the tireless UK military and civilian effort in Lashkar Gah, and in Helmand province more widely. While this is only the beginning of the process and we expect tough challenges ahead, it marks a significant step towards stability in Afghanistan.
The High Peace Council has taken forward the Afghan Government's efforts to reach out to elements of the insurgency including through the implementation of the Afghan Peace and Reintegration Programme. It has built support across the region for peace and stability in Afghanistan through visits to Pakistan and Turkey. These are important steps forward in the Afghan-led political process.
We fully agree with the Committee's assessment that now is the right time to advance a political process in Afghanistan. This work is our priority and is already underway. We are supporting the Afghan Government as they work towards a genuinely representative political settlement that addresses the concerns of all Afghans as well as other countries in the region."
Published 4 May 2011