News story
Renewing your ADI registration just got easier
You can now let the Driving Standards Agency (DSA) use your photocard licence photo for your approved driving instructor (ADI) badge.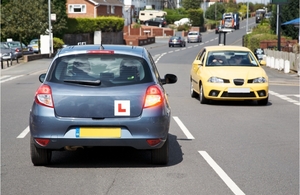 This makes renewing your ADI registration quicker and easier than ever before. You'll be able to complete your application online and not send anything in by post.
Renew with a photocard
You can use the online service to renew your ADI registration When you are logged in, just tick the box to give DSA permission to use your photo.
Renewing if you don't have a photocard licence
If you don't have a photocard licence, or don't want DSA to use your photocard licence photo, you'll have to send a recent passport sized photo to DSA. You'll also have to print out your application form and send it with your photo.
If you want to exchange your paper driving licence for a photocard, click on the link below.
How to renew your registration
Your registration as an ADI lasts for 4 years. Before it runs out, you can apply for registration for another 4-year period.
You'll need to get a criminal record disclosure before you apply for renewal. When you renew, you must satisfy the ADI registrar that you are a fit and proper person.
You can find out more in DSA's guide to renewing your ADI registration.
Published 23 February 2012