News story
Removal of Royal Mail postal redirect from 10 August
Land Registry reminder: where to send your postal applications.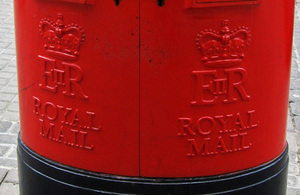 From Monday 10 August we'll be removing Royal Mail postal redirects for postal applications.
If you send applications by post please ensure you're using the central PO Box address.
You can submit applications online by signing up to Business e-services. Benefits include a 50% fee reduction for some application types, no postage costs, an electronic audit trail and reduced end-to-end processing times.
Published 6 August 2015