Press release
Registration for Clinical Excellence Awards in 2013 closes this Friday
Medical and dental consultants have until the end of this week to register to be eligible for Clinical Excellence Awards in the 2013 round.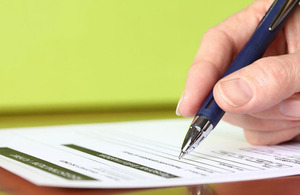 Clinical Excellence Awards are given to recognise and reward contributions to the NHS which is "over and above" that normally expected. They are awarded for quality and excellence, whilst quantity of work is rewarded through programmed activity payments.
There are 12 levels of award. Levels 1-8 are awarded locally and Levels 10-12 (Silver, Gold and Platinum) are awarded nationally. Level 9 awards can be made locally or nationally, depending on the nature of the work, and they have the same financial value. To avoid confusion, national Level 9 awards are referred to as Bronze.
The Minister has yet to make a decision about the 2013 round of awards, but guidance from the Advisory Committee on Clinical Excellence Awards is to be prepared, on the basis that there will be a round. As such, Public Health England (PHE) is calling for eligible consultants to register with them.
Gary Sharp, Head of Human Resources in PHE, said:
PHE will undertake the administration of the Clinical Excellence Awards process for all public health medical and dental consultants employed directly by PHE, by local authorities and universities. We encourage everyone in the field to register with us to enable them to apply for these prestigious awards.
PHE is currently running a registration exercise to determine the number of eligible consultants. If you have not heard from us but think you may be eligible, contact CEA2013@phe.gov.uk for more information.
Published 1 July 2013