News story
Record investment in transport network used to guarantee apprenticeships
A new transport skills strategy outlines plans to create apprenticeships in the road and rail sector.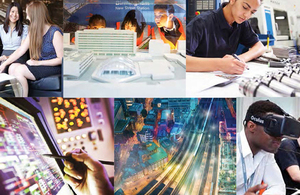 new transport skills strategy sets out how government will deliver plans to create 30,000 apprenticeships in road and rail sector by 2020
apprenticeship targets to be written into contracts delivering government's record rail and road investment programme
stretching target to increase the number of new female entrants to engineering and technical apprenticeships in the transport sector, the aim being that this should be in line with the proportion of women in work by 2030
Contracts let for major government transport infrastructure projects will from March 2016 include targets for the creation of new apprenticeships, the government announced today (28 January 2016).
The new commitment will help deliver government plans to create 30,000 apprenticeships in the road and rail sector by 2020 and forms a major plank of the Department for Transport's new Transport infrastructure skills strategy.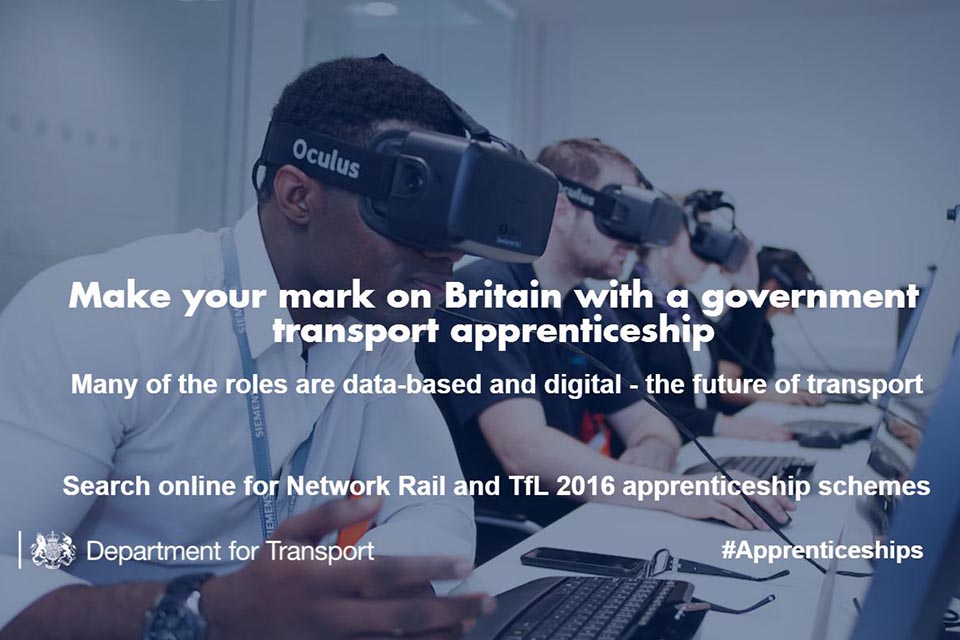 The Department for Transport, alongside its delivery bodies, including Highways England and Network Rail, will now work with their suppliers to ensure apprenticeships are at the heart of contracts which will deliver the government's multi-billion pound rail and road investment programme.
Depending on the contract, this means suppliers will either create one apprenticeship for every £3 to £5 million of taxpayers' money spent, or deliver a percentage increase in the number of apprentices employed each year during the lifetime of the contract. In these cases the aim is that the number of apprenticeships created each year will equal 2.5% of the workforce, so for every 200 people employed, 5 apprenticeships will be created each year.
Transport Secretary Patrick McLoughlin said:
Our record investment in the transport system won't just deliver new world-class infrastructure, it will create opportunity for people across the UK by guaranteeing apprenticeships through contracts. We are creating thousands of high quality careers across the country, many of which are cutting edge, highly technical and require Britain's best minds.

Our skills strategy sets out what we are doing to making these job opportunities highly desirable, so we can attract the nation's talent and equip them with the skills to deliver on our commitment to build a world class transport infrastructure system.
The government is funding the biggest rail modernisation since Victorian times, and the most extensive improvements to roads since the 1970s. To help the transport industry ensure a continuous pipeline of skilled workers to deliver on this investment, Patrick McLoughlin appointed Crossrail chair Terry Morgan CBE to develop the 'Transport infrastructure skills strategy' in August 2015.
The strategy builds upon the work of major projects like Crossrail, which has used responsible contract arrangements to create hundreds of apprenticeships since construction began in 2009. Today the project has confirmed it has now created over 500 apprenticeships, well above its original target of 400 apprenticeships over the lifetime of the project.
Crossrail chair and strategy author Terry Morgan CBE said:
As we have seen on Crossrail, by working with our suppliers we can help young people begin long and successful careers in an exciting and nationally important sector.

To create a workforce capable of delivering the unprecedented number of transport projects in the pipeline it is vital we increase the number of apprentices and attract more women into the industry. This skills strategy is a huge step in the right direction, but all of us, from parents and teachers to chief executives and industry leaders have a role to play to help the next generation grab the exciting opportunities on offer.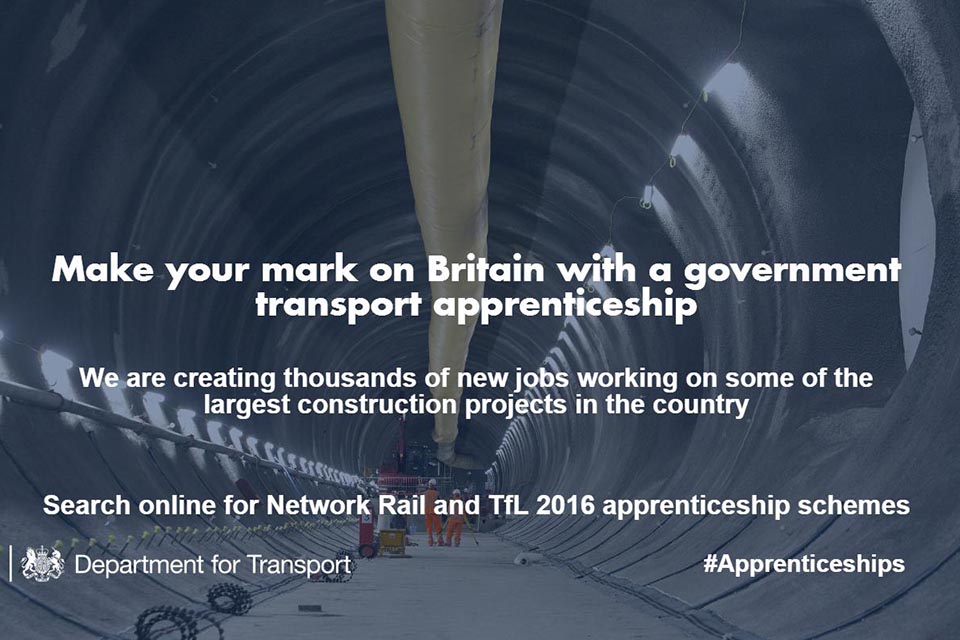 The 'Transport infrastructure skills strategy' is clear on the vital role women can play right across the industry. Yet women represent just 20% of employees in the rail industry as a whole and only 4.4% of rail engineering roles. The department's skills strategy is clear that it needs more high calibre women to help deliver the unprecedented investment in transport infrastructure.
Agreement has also been reached with Network Rail, Highways England, HS2 Ltd, Transport for London (TfL) and Crossrail for a stretching target for new female entrants to engineering and technical apprenticeships, either directly employed by them or by their suppliers, delivering an increase in the numbers of women employed in the transport sector, with the aim being that this should be in line with the proportion of women in work by 2030.
Mark Carne chief executive of Network Rail said:
Today we have more than 2,000 apprentices, current and graduated, who are making a vital contribution to delivering the biggest investment since the Victorian era through our £38 billion railway upgrade plan. We are continuing to invest in apprenticeships and the training and development of our workforce with state-of the-art centres across Britain, and we are searching for more talented people to join us this year.

We are already looking at how we can adapt and grow our scheme to attract a more diverse range of applicants, which will in time help improve our performance to run a better railway and support Britain as a whole in developing and training the engineers we need for economic success. I would urge every young person deciding on their future to consider kicking-off their career with an apprenticeship.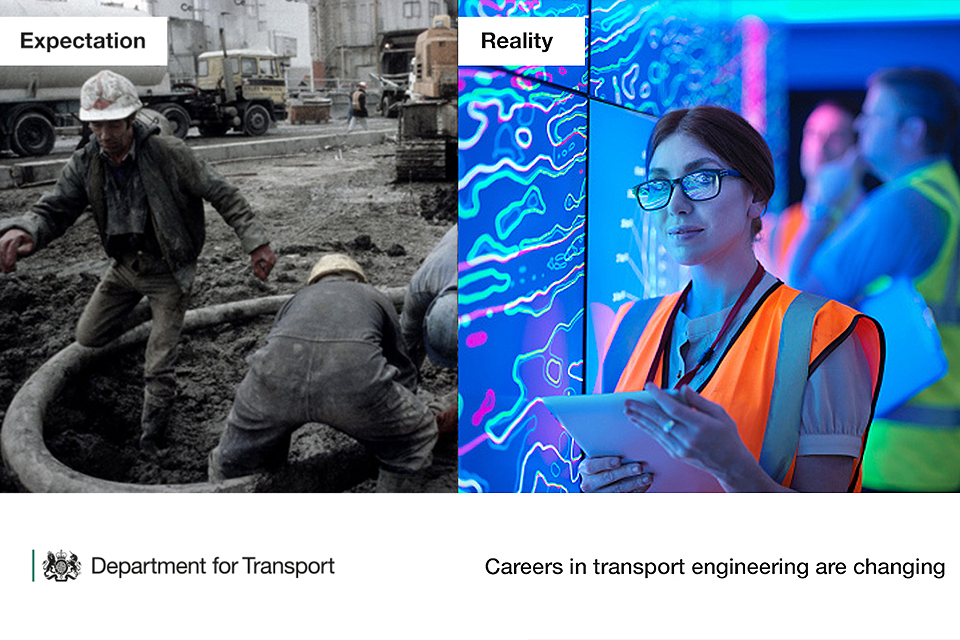 Mike Brown MVO, London's Transport Commissioner said:
Apprentices are central to delivering the modernisation of London's roads, Tube and other public transport networks to meet the needs of a rapidly growing population. Together with our suppliers, we have created over 5,500 apprenticeship roles over the last 7 years. We are committed to creating many more into the future, including welcoming many more female entrants to the wide range of engineering and technical apprenticeships we can offer.
HS2 Ltd CEO Simon Kirby said:
It's clear that, as an industry, we need to get much better at building higher level skills. We also need to get much better at attracting and retaining a more diverse workforce.

That's why today's strategy launch is so important, and why at HS2 Ltd we will continue to work closely with the National College for High Speed Rail to deliver the skills and expertise we need, not just for HS2, but for the nation as a whole.
Highways England Jim O'Sullivan said:
It is an exciting time to be in the roads industry with unprecedented levels of investment from government. £15 billion is being invested in England's motorways and major A roads between 2015 and 2021.

We are pleased to support the DfT transport skills strategy and growing talent for our sector will play a vital part in shaping the future of our road network. We need to be more ambitious in our recruitment and training if we are going to attract and retain the skills required to build a diverse workforce that is capable of delivering this huge amount of work.
As part of its drive to encourage a more diverse workforce in the transport sector, the government is also recommending all organisations of over 250 employees to implement a 'returnship' programme to make it easier for people, and women in particular, to return to work after time out. Research by the Women's Business Council showed there are over 2.4 million women who are not in work but want to work, and over 1.3 million women who want to increase the number of hours they work.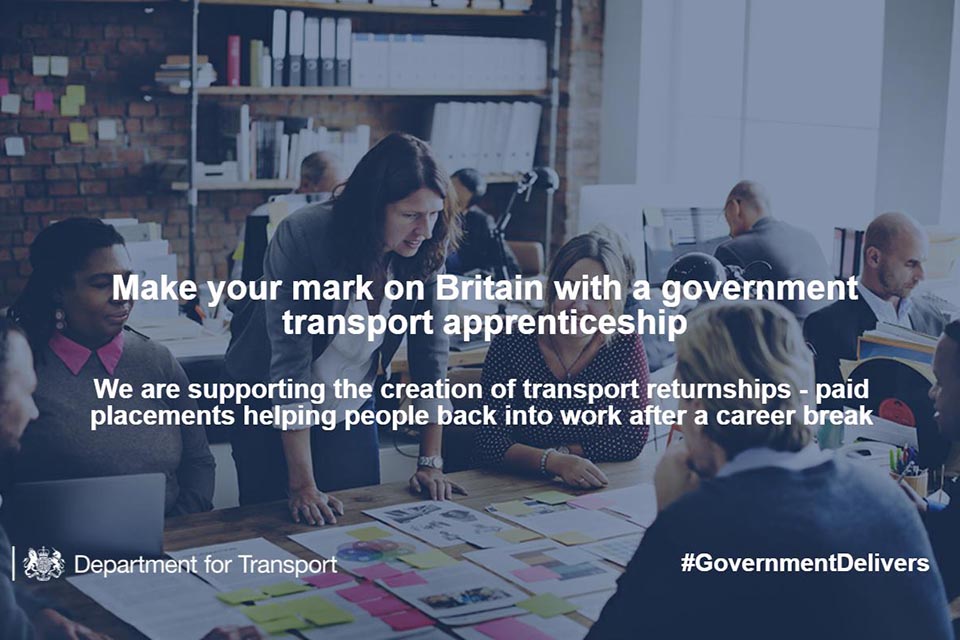 Both Network Rail and TfL are currently recruiting for their 2016 apprenticeship schemes, with a wide range of roles and locations available.
We want people to apply for apprenticeships now. Head to www.apprenticeships.gov.uk or search the Network Rail and TfL 2016 apprenticeships schemes, which opened this month for new applicants.
Published 28 January 2016